North America
Hundreds protest in San Francisco against police brutality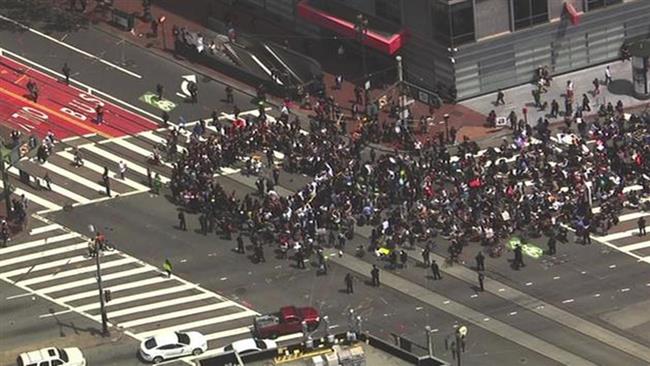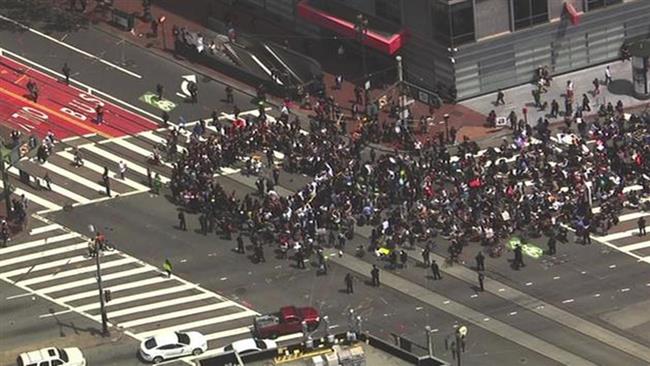 Hundreds of protesters have joined five hunger strikers in San Francisco, California, to demand an end to police brutality amid a national concern over police violence against minorities.
The protesters marched from the Mission Police Station to City Hall on Tuesday, urging San Francisco Mayor Ed Lee to fire police chief Greg Suhr.
"This mayor's a complete disgrace and if anyone doesn't see that then they don't know what's going on," said protester Sallssie Striker. "This is the most despicable mayor."
The five hunger strikers, dubbed the "Frisco Five," have refrained from eating for 13 days in protest of recent police killings in San Francisco.
The hunger strikers are composed of four men and one woman. All say they have been mistreated by the police department because of the color of their skin.
The call for Suhr's firing follows the controversial police killings of Mario Woods, Alex Nieto, Amilcar Lopez, and most recently, a homeless man named Luis Gongora.
Earlier this month, racist text messages in which a San Francisco police officer referred to African-Americans as "nigs," Mexicans as "beaners" and Indians as "disgusting" put a further strain on the fraught relationship between community members and police.
"Each day we stand out here is a day that the police don't kill someone," said Edwin Lindo, one the five people on a hunger strike. "We're starving ourselves in the city that has starved our communities for decades, from lack of housing, lack of proper education, lack of good jobs and good treatment for people of color. Yet we're the richest city…it's disgraceful."
Along with dozens of other police departments around the nation, the San Francisco police — who work in one of the nation's most culturally diverse cities — have come under scrutiny during the past year.
Officers have been accused of using unnecessary deadly force and brutality, and of focusing enforcement efforts on black neighborhoods while ignoring similar infractions elsewhere.
In January, the US Justice Department announced that it would review the San Francisco Police Department after the December 2 shooting death of an African American man on a city street.