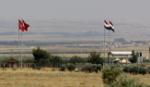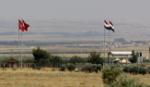 Tension erupted during a protest on both sides of the Turkish-Syrian border near Mardin's Nusaybin district organized by opposition parties.
Police however did not allow the demonstration, resorting to use water cannons and tear gas to disperse the protesters as they approached the border.
Around 1,000 Syrian Kurds, who simultaneously gathered at Qamishli, right across from Nusaybin to walk to the Syrian side of the border, protested against the intervention of the Turkish police.
Two weeks ago, the Turkish military started to build a wall alongside the Nusaybin district to prevent illegal crossings.
Turkey had also previously announced the construction of a 2.5-kilometer-long wall along the Cilvegözü border gate with Syria.
Turkish government has been facing criticism both inside and outside the country regarding its policies toward the war in neighboring Syria and its strong support to militants for toppling the government of Syrian President Bashar al-Assad.
On October 4th, Assad warned Turkey it will "pay dearly" for supporting militants fighting to overthrow his government.
"In the near future these terrorists will have an impact on Turkey. And Turkey will pay very dearly for its contribution," Assad said.