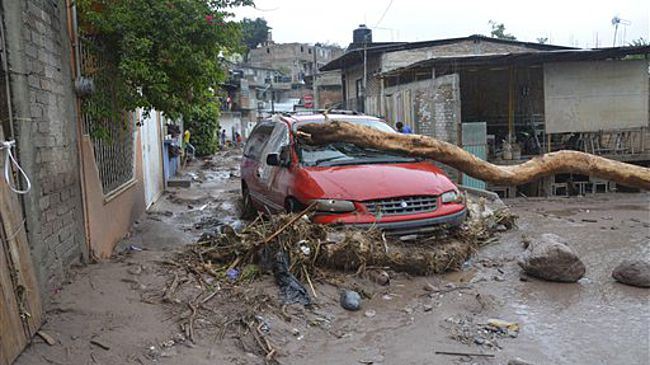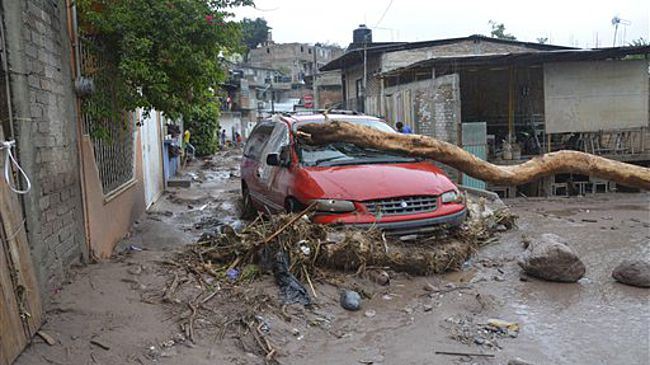 A powerful hurricane has caused massive flooding across Mexico's northwest, stranding tens of thousands of tourists in shelters.
Category four hurricane Oldie weakened into a tropical storm on Monday but left homes destroyed, hotels and highways flooded and the airport closed in its wake.
The popular resort city Cabo San Lucas is still being battered by heavy torrential rain which is causing floods in the streets and trapping vehicles.
Hotels in the area have been turned into temporary shelters for around 26,000 tourists and 4,000 Mexican beachgoers who have been stranded by the flooding.
The Hurricane knocked out the majority of the Mexican state's power lines, leaving around a quarter of a million Baja California residents without power.
"I'm taking water for the children and food for the baby. You never know what can happen tomorrow," said a tourist while leaving a convenience store.
Electronic stores, supermarkets and other private stores in the tourist haven were also looted during the storm's aftermath on Monday.
"It's one thing to see hurricanes on TV. It's another to live them," another tourist said.
Over 1,000 troops were deployed to the storm hit area in attempt to return order.
According to reports 135 people were also injured during and after the storm.
It is expected that the storm will blow itself out by Wednesday