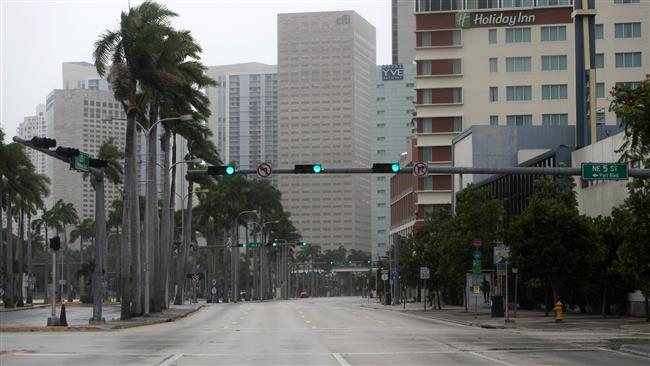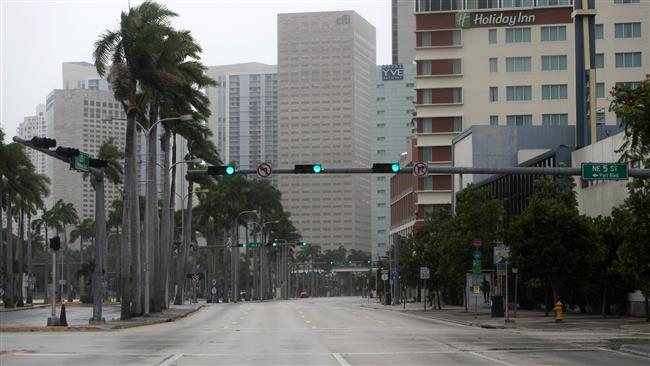 Hurricane Irma has regained strength as it begins pummeling Florida, threatening almost the entire southeastern US state after leaving a deadly path of destruction across the Caribbean islands.
Irma strengthened to a Category 4 storm as it closed in on the island chain known as the Florida Keys, the US National Hurricane Center said early Sunday.
The storm had a maximum sustained winds of 130 miles (209 km) per hour and was on a path that would take it along the state's Gulf of Mexico coast, near population centers including Tampa and St. Petersburg. the NHC said.
Officials have urged nearly 7 million people in Florida to evacuate as the storm began unleashing heavy winds and rain on the state on Sunday.
Tens of thousands of Floridians have sought refuge in shelters to avoid a direct hit from the monster storm, although some have ignored repeated warnings and remained home.
More than 270,000 people were without electricity, Florida Power & Light, a power utility company, said on its website.
Florida Governor Rick Scott warned Saturday that "this is the most catastrophic storm the state has ever seen."
"If you have been ordered to evacuate anywhere in the state, you need to leave right now. Not tonight. Not in an hour. Now. You are running out of time to make a decision," Scott said.
Irma is currently moving away from the coast of Cuba and is making landfall on the Florida Keys, which forms the southernmost portion of the state.
For those still at home, it was already too late to escape the wrath of what could be the worst hurricane in storm-prone Florida.
Irma weakened from a maximum-strength Category Five to a Category Three storm, though it was still packing winds of 125 miles (200 kilometer) per hour.
The mass exodus from southern Florida could become one of the largest evacuations in US history, according to CNN.
US President Donald Trump, Vice President Mike Pence and their cabinet were briefed on Hurricanes Irma and Jose, with Trump warning on Twitter that "this is a storm of enormous destructive power."
Brock Long, the administrator of the Federal Emergency Management Agency Administrator (FEMA) said Friday that Irma will "devastate" Southeastern United States.
Florida's governor warned this week that Irma is on track to be "bigger, faster and stronger" than Hurricane Andrew, the devastating Category 5 storm that caused major damage in the state in 1992.
Andrew was the most destructive hurricane to ever hit the state. It was the costliest hurricane to make landfall anywhere in the United States until it was surpassed by Katrina in 2005.