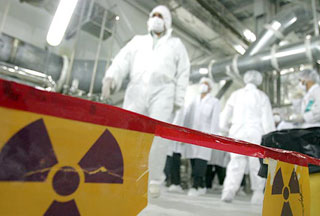 IAEA governors have reportedly passed a new resolution against Iran over a nascent enrichment facility outside Tehran, which was fully inspected and cleared by UN nuclear officials in October.
The draft resolution, which was passed early on Friday by a 25-3 margin with six abstentions, calls on Iran to immediately halt construction of the Fordo enrichment plant, which lies 160 kilometers (100 miles) south of Tehran.
It also urges Iran to clarify what it calls "an original purpose" and also to confirm it has no more hidden nuclear plants and no intentions whatsoever to build some.
The resolution, which was opposed by Malaysia, Venezuela and Cuba, was the first by the 35-nation governing board in over three years.
The board began talks over the resolution, which was drafted by the P-5+1, on Thursday.
Led by the United States, world powers have accused Iran of secretly constructing the Fordo nuclear plant.
This is while Iran had announced plans to construct a new enrichment plant with the capacity to produce enriched uranium up to 5 percent in a letter to the UN nuclear watchdog on September 21.
The letter, which was prepared in line with Tehran's policy of nuclear transparency, was sent 12 months before the agency's regulations oblige its member states to inform of new developments.
Nevertheless, the Iranian government set a late October date for a UN team to visit the new enrichment facility in a bid to address Western concerns.
According to International Atomic Energy Agency (IAEA) Dierctor-General Mohammed ElBaradei, the inspectors found "nothing to worry about".
Iran's Ambassador to the UN nuclear watchdog Ali-Asghar Soltaniyeh said the resolution will have far-reaching consequences.
Iran's envoy to the IAEA earlier warned that Tehran won't cooperate with the agency beyond its legal obligations if the resolution is approved.
The development comes as the US and its allies have been pressuring Iran to accept a draft deal to send its low-enriched uranium abroad in exchange for nuclear fuel for its Tehran research reactor. Iran wants the swap to be carried-out inside the country, as it says the West cannot be trusted.