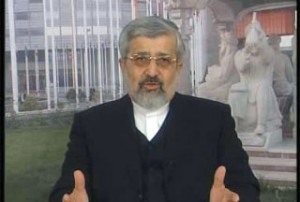 Iran's ambassador to the UN nuclear watchdog has described the latest IAEA report on Tehran's nuclear work as "unbalanced."
In a note to the International Atomic Energy Agency (IAEA), a copy of which was obtained by the Islamic Republic News Agency (IRNA), Ali Asghar Soltanieh said the report was neither balanced nor factual.
Soltanieh said the report did not mention Iran's "explanations" and the "correspondence" between Iran and the Agency.
The report instead went into "unnecessary" technical details that only created ambiguities over Iran's nuclear work, he said.
"Unfortunately, the [IAEA] director general's report has been prepared in such a way that the tiresome outdated issue of the alleged studies has once again been brought out as a new issue."
He added that the issue of the alleged studies, which was mentioned in the report, was "not authenticated" and did not bear any "confidentiality stamps."
"Why does the new report not reflect the critical issue that the alleged studies lack any authentication as stressed by former director general Mohamed ElBaradei?" he queried.
The current UN nuclear watchdog head, Yukiya Amano, issued a report about Iran's nuclear program on February 18.
Amano, in his first report on Iran's nuclear activities, once again verified the non-diversion of declared nuclear material in Iran but called on Tehran to further discuss and cooperate on the issue of the alleged studies.
The US and its allies insist that Iran should cooperate with the IAEA over their so-called "alleged studies" of weaponization. Such studies purportedly implicate Iran in pursuing a "green salt project, high explosives testing, and a missile re-entry vehicle project."
Iran considers such documents to be forged, demanding that the IAEA provide Tehran with copies of the documents so that Iran can inform the Agency of its assessment. IAEA has so far failed to provide the documents to Iran.
Soltanieh said the allegations are an attempt to confuse the public, and are damaging the credibility of the UN agency.