Human Rights
North America
ICE reportedly begins raids to round up migrants across US
US Immigration authorities have begun raids to round up undocumented immigrants across the country, a senior administration official tells CNN.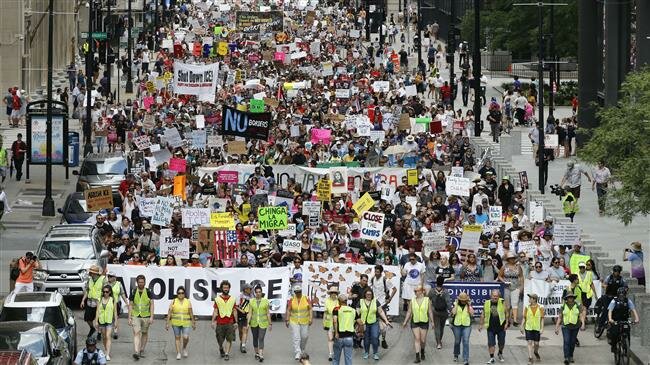 Atlanta, Baltimore, Chicago, Denver, Houston, Los Angeles, Miami, New York and San Francisco will be targeted, read the Sunday report.
There were no reports of arrests as of early Sunday evening not at least in Baltimore, Chicago or New York.
'ICE raids encourage hate and discrimination"US ICE raids encourage hate and discrimination, says Amnesty International.
"For the most part, it's quiet," Cara Yi, a spokeswoman for the Illinois Coalition for Immigrant and Refugee Rights said. "We've been dispatching rapid response teams out to meet with people who have reported ICE activity over our hotline. None have been confirmed as of yet."
Acting US Citizenship and Immigration Services director Ken Cuccinell asserted that those being targeted are not exactly "undocumented."
"They're not undocumented. They've got a court order on a piece of paper — federal order — that says they've gotten due process, and (there are) over a million people with removal orders. That's the pool that ICE is drawing from," he told CNN.
'US ICE aimed to arrest 8,400 in 2017'US Immigration and Customs Enforcement (ICE) planned to launch a massive operation in 2017 to round up 8,400 undocumented immigrants, documents show.
A million people are facing removal orders, among them families, added Cuccinell.
"This is their job every day. We've got compassionate, loyal ICE agents who are just doing their job," he said. "It shows you how far we've fallen in that it's become news that they would actually go deport people who have removal orders."
Reports of the raid have already caused panic among migrants, particularly the new arrivals, who are the main targets of the ICE raid.
Protesters take down US flag ICE bldg, hoist Mexican flagUS protesters take down American flag at an ICE facility and replace it with Mexican flag.
"In the face of heartless raids that would tear families apart, we remain steadfast in our commitment to support and defend immigrant communities," Bitta Mostofi, the commissioner of the New York mayor's office, said in a statement.