Europe
Iran
Middle East
North America
Idiot Trump Promises to Return to Paris Agreement for France's Attempts to Persuade Iran to Compromise
US President Donald Trump has promised his French counterpart Emanuel Macron to rejoin the Paris Agreement in return for France's efforts to coax Iran into making concessions on its missile and regional policies.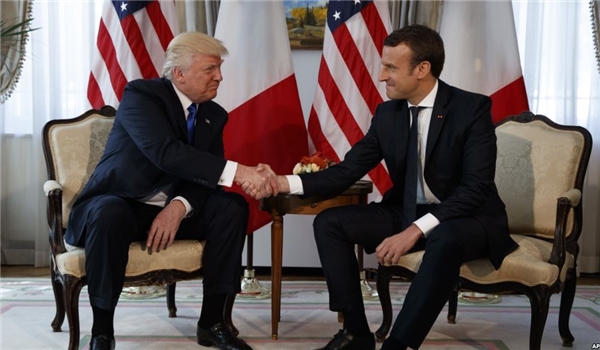 The Persian-language Nour News reported on Sunday that Trump and Macron held an important meeting on the sidelines of the G20 summit in Osaka during which the US president rejected Macron's demand to return to the Paris Agreement in the near future.
But Trump has promised Macron that he would announce the US rejoining the Agreement before November 2020 if Paris succeeds in persuading Iran to accept a new deal, it added.
According to the report, Trump has also promised to decrease the US support for France's National Front which won over Macron's party in the latest European parliamentary elections.
Taking up the cudgel on climate change in the face of American opposition, President Emmanuel Macron of France threatened Wednesday not to sign any joint statement from the Group of 20 summit in Japan unless it deals with the issue, which he called a "red line."
In a rebuke of American officials, Macron emphasized the importance of reiterating support for the Paris climate agreement of 2015, from which President Trump has vowed to withdraw the United States.
Washington withdrew from the internationally-endorsed 2015 nuclear deal with Iran, reimposed the toughest-ever sanctions against the country and started a plan to zero down Tehran's oil sales.
Under the nuclear agreement reached between Iran and six world powers in July 2015, Tehran undertook to put limits on its nuclear program in exchange for the removal of nuclear-related sanctions.
In 2018, all the other signatories — Russia, China, Germany, France, the UK, and the EU — refused to follow the US example and confirmed their commitment to the accord, trying to save the deal with the Islamic Republic.
Iranian officials then warned that the European Union's failure in providing the needed ground for Tehran to enjoy the economic benefits of the nuclear deal would exhaust the country's patience.
Yet, Iran continued compliance with deal, stressing that the remaining signatories to the agreement had to work to offset the negative impacts of the US pullout for Iran if they want Tehran to remain in compliance.
Europeans' honesty in dealing with the Iran nuclear deal has always been seriously doubted by Iranian masses that were discontent with talks with European states.