Middle East
Syria
Idlib: People Resist Tahrir Al-Sham's Forced Recruitment Against Syrian Army
Civilians in Idlib province are showing strong resistance against forced recruitment by Tahrir al-Sham al-Hay'at (the Levant Liberation Board or the Al-Nusra Front) as the Syrian army has started operations to capture Idlib.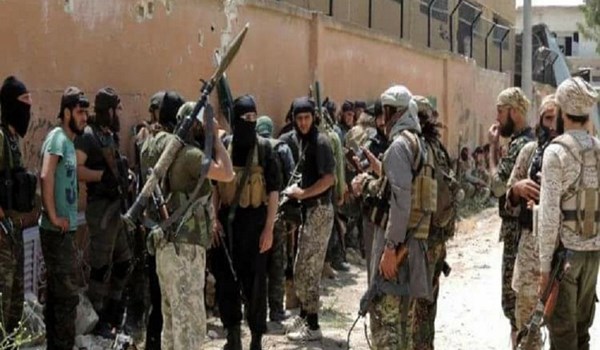 Tahrir al-Sham has formed a new formation called 'Popular Resistance Brigades' to force civilians to join the terrorist group for battle with the Syrian Army in Northern Syria.
Meantime, the Arabic-language Al-Watan newspaper reported that the residents of Idlib province have told Tahrir al-Sham terrorists and their commanders that they will refrain from dispatch of their sons to the battlefronts against the Syrian Army in Hama and Idlib fronts.
The report pointed to huge losses sustained by the terrorists in the recent battle with the Syrian Army and lowering of their morale, and said that Tahrir al-Sham has sent its militants who have recently relocated to Idlib from Eastern Ghouta, Dara'a and other regions in Southern Syria to the battlefront.
Meantime, Tahrir al-Sham has reportedly arrested a large number of people to send them to different parts of Idlib, including Ariha, Jabal al-Zawiya, Harem, Salqin and Sarmin to fight against the Syrian Army.
In a relevant development on Sunday, the Syrian Army spread to the borders of Idlib province after advancing in Northwestern Hama and regaining control over several towns and villages.
The Syrian Army troops backed by artillery units and air force engaged in clashes with the terrorists North of Qala al-Maziq in Northwestern Hama, taking control of the towns of Bab al-Taqa, al-Sharia, al-Arimeh and al-Jamazieh.
The Syrian Army troops also managed to take control of the towns of Meidan Ghazal and al-Mostariheh in Jabal Shahshabou axis.
A military source pointed to deployment of the Syrian Army's units in al-Sharia town, and said that the Syrian Army troops arrived in Southern borders of Idlib province after making recent advances.
Meantime, the Syrian Army's artillery and missile units also pounded the military positions and movements of Tahrir al-Sham al-Hay'at in the towns of Heish, Kafar Sajneh and Hass in Northern Hama and Southern Idlib as well as destroying several key centers and military positions of terrorists from where they launched attacks on the safe zone and killed a number of terrorists.