North America
Ignorant Trump declares national emergency over coronavirus
US President Donald Trump has declared a national emergency over the fast-spreading coronavirus, freeing up additional resources and federal funding of about $50 billion to fight the disease.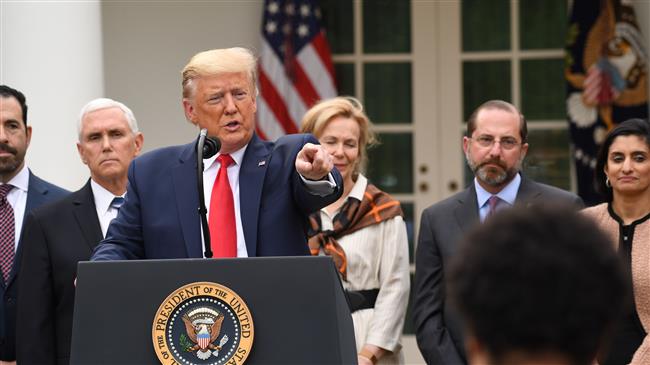 Trump made the announcement at a news conference on Friday at the White House, saying he was declaring the national emergency in order to "unleash the full power of the federal government," Reuters reported.
He called on all US states to establish emergency centers to help fight the deadly virus.
Declaration of an infectious disease emergency under the 1988 law would allow the Federal Emergency Management Agency (FEMA) to provide disaster funds to state and local governments and to deploy support teams.
"To unleash the full power of the federal government in this effort today, I am officially declaring a national emergency. Two very big words. The action I am taking will open up access to up to $50 billion – a very important and a large amount for states and territories or localities in our shared fight against this disease," Trump said.
To unleash the full power of the Federal Government in this effort, today I am officially declaring a National Emergency. pic.twitter.com/yu2GBcxWD6— Donald J. Trump (@realDonaldTrump) March 13, 2020
Trump said his government would partner with the private industry to speed up production of test kits to make them available to Americans.
He said perhaps more than 5 million coronavirus tests will be needed, and requested people to only seek out the test if they really need it.
"We don't want people to take a test if we feel that they shouldn't be doing it and we don't want everyone running out and taking – only if you have certain symptoms," he said.
The Trump administration has faced harsh criticism over the slow response and availability of coronavirus tests.
"The goal is for individuals to be able to drive up and be swabbed without having to leave your car," Trump said.
Up to 150 million Americans could get coronavirus: US projectionBetween 70 to 150 million people in the United States could eventually be infected with the novel coronavirus, according to a projection.
Anthony Fauci, the National Institutes of Health expert, who is on Trump's coronavirus task force, was standing alongside Trump in the White House while he declared the national emergency.
"We still have a long way to go. There will be many more cases. But we'll take care of that," said Fauci. "What's going on here today is going to help it end sooner than it would have."
Trump has earlier blamed his predecessor for the slow coronavirus testing process in the country, saying former President Barack Obama "made changes that only complicated things further."
Trump blamed Obama on Friday as the US Centers for Disease Control and Prevention (CDC) has come under fire over the past days following the coronavirus outbreak in the United States.
Instead of using the World Health Organization's test kit for the disease, which is commended as highly effective and reliable across the world, the CDC has embarked on making its own test and that has slowed its response due to delays in diagnosing patients, not to mention qualms about its effectiveness.