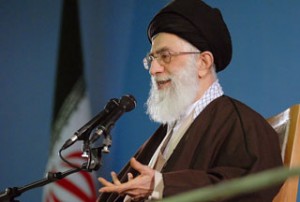 The Leader of Islamic Ummah Imam Ali Khamenei has praised the high turnout of the Iranians in the rallies marking the 31st anniversary of the Islamic Revolution.
"Friends and enemies of the Iranian nation should know that this nation has found its way and has taken its decision to reach the peak of development and welfare, and overcomes any obstacle which comes on its path," the Leader said.
Imam Ali Khamenei went on to add that it's time for the country's foreign enemies to wake up and abandon efforts to subjugate the Islamic Iran.
"Trial and errors during the past thirty one years are not enough to awaken a few arrogant and bullying states to their futile efforts to dominate this Islamic nation?"
Imam Ali Khamenei made the remarks after millions of Iranians across the country took to the streets across the country to celebrate the 1979 Revolution which led to overthrowing the US-backed Pahlavi regime.
The Leader also asked whether the presence of tens of millions of people in the rallies could push internal enemies and dissenters to realize the path they have embarked on.
In the message issued late on Thursday, Imam Ali Khamenei thanked people for participating in the rallies.