Ashura
Imam Hassan's son Qasim's Martyrdom on Ashura Day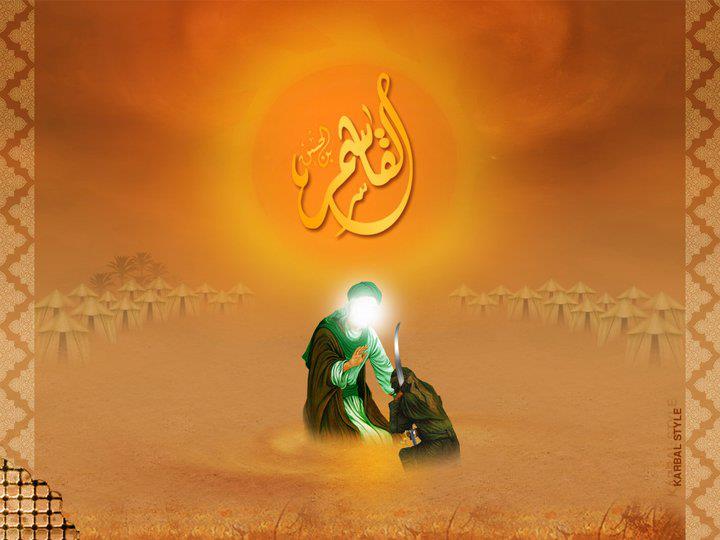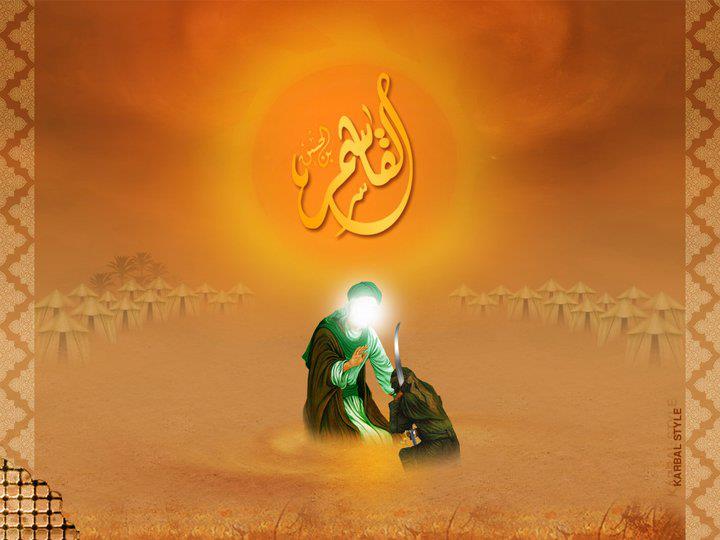 On Ashura day, Hadhrat Qasim (AS) came to Imam Hussain (AS) and begged for permission to go and fight. Twice Imam Hussain refused saying "Qasim you are young and your mother's only son". Hazrat Qasim was very disappointed. He went to his mother. When she saw her son so disappointed she remembered that just before he died, Imaam Hassan had written a letter, given it to Umm-e-Farwa saying ,"If ever you find Qasim in difficulty, give him this letter." She gave Hazrat Qasim the letter. In the letter it was written, "My son Qasim, a day will come when my brother Hussain will be facing an enemy army of tens of thousands. That will be the day when Islam will need to be saved by sacrifice. You must represent me on that day."
Hadhrat Qasim read the letter. He smiled. He rushed to Imaam and gave him the letter. After reading the letter Imam Hussain said, "O my brother's son, how can I stop you from doing what your father wanted you to do. Bismillah, go. Allah be with you".
Imam Hussain tied Imaam Hassan's turban on the head of Hadhrat Qasim and helped him mount his horse. As Qasim was riding out, Imam Hussain said "Inna Lilla-hi Wa Inna Ilai-hi Raji'oon". Hadhrat Qasim said "O my uncle – Do not be upset. I do not fear death. Death for Islam will be sweeter for me than honey". Hadhrat Qasim came to the battle field. He was a very handsome boy. When the enemy saw him, they began to murmur, "How can we kill someone whose face is shining like moon?"
In a loud and a clear voice Hadhrat Qasim introduced himself and cried out a challenge for single combat. He killed several famous warriors who came forward.
Every time he felled an enemy Hadhrat Qasim would stand on his stirrups, look behind and wave to Hadhrat Abbas, just as a pupil would seek approval of his teacher on any assignment, Hadhrat Abbas would proudly wave back. When the enemy saw his bravery and realized that they could not possibly over power him in single combats, they came from behind and one of them hit Hadhrat Qasim on the head with a sword.
Hadhrat Qasim tried to go on fighting but he was so young and he was so very thirsty! He fell from his horse crying out, "YA ALLAH, ACCEPT MY LAST SALAAMS."