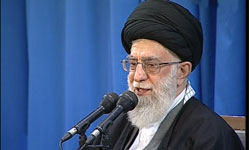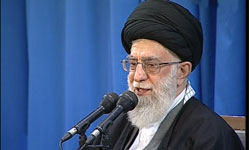 The Leader of Islamic Ummah and Oppressed People Imam Seyed Ali Khamenei strongly criticized the US officials for their irresponsible remarks concerning Iran's upcoming presidential election in June, and said their comments are not worth a response.
"Their criticism of the honorable and proud Islamic Republic is not worthy enough to receive the Iranian nation and officials' response and attention," Ayatollah Khamenei said, addressing a number of university students and military cadets in Tehran on Monday.
Imam Khamenei referred to the extensive propaganda campaign launched by the enemies of the Iranian nation to dissuade the people from partaking in the June 14 presidential election, and said the reason behind such strong antagonistic moves lies in the fact that the Iranian people's spirited partnership in the election will cost the enemies' dearly.
Imam Khamenei pointed to the US officials' interfering remarks on election in Iran, and said those who raise such allegations are the same parties who have been dishonored by their jails in Guantanamo, drone attacks in Pakistan and Afghanistan and unconditional support for the criminal Zionist regime.
Meantime, he underlined that during the last 34 years after the Islamic Revolution the enemies have always attempted to create tension on the threshold of different elections in Iran, but to no avail.
The Supreme Leader stressed that the Iranian nation will strike a blow at the enemies by its high turnout in the upcoming presidential election.
His remarks came after US Secretary of State John Kerry on Friday slammed the Guardian Council (GC) for what he described as barring of would-be candidates for June 14 presidential election in Iran.
Under Iran's Election Law, the Guardian Council is the body responsible for vetting hopefuls.
On Tuesday night, the council okayed Secretary of Iran's Supreme National Security Council (SNSC) and the country's Chief negotiator Saeed Jalili, former Parliament Speaker Gholam Ali Haddad-Adel, Expediency Council Secretary and former IRGC top commander Mohsen Rezayee, former chief negotiator Hassan Rouhani, former Vice-President Mohammad Reza Aref, former Communications Minister Mohammad Qarazi, Senior Advisor to the Supreme Leader for International Affairs Ali Akbar Velayati and Tehran Mayor Mohammad Baqer Qalibaf as qualified candidates for the June election.
The eight qualified candidates represent a wide range of political streams from Principlists to reformers.