Africa
Imperialist France delays troops pullout from Mali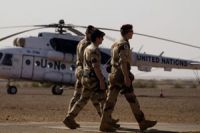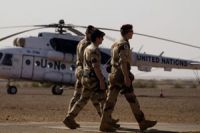 France has postponed plans to pull its troops out of the African state of Mali, citing recent clashes in the African country as the reason for the delay.
According to AFP, a French defense source said on Tuesday that earlier plans to redeploy the troops serving in Mali to other African countries had been delayed following the recent outbreak of fighting between militants and the army in the northern town of Kidal.
Taureg militants clashed with Malian troops in Kidal during a visit by Malian Prime Minister Moussa Mara to the region on May 17.
"Given the events of the last 48 hours, the operation to restructure the forces under Serval and send them to other French units in the Sahel-Sahara region has been deferred by a few weeks," the French defense source said.
Earlier this month, Paris said it was ending its "frontal war phase" in Mali and planned to redeploy 2,000 of its 3,000 troops in Mali to other countries in the Sahel region.
The source also said that French Defense Minister Jean-Yves Le Drian had been expected to visit Mali and Chad at the weekend to reorganize the redeployment, but the trip had been cancelled.