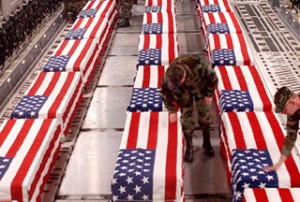 NATO's international Security Assistance Force (ISAF) confirmed on Friday that explosions have claimed the lives of five US soldiers in war-torn Afghanistan over the past 24 hours.
The ISAF announcement came as three troopers were declared dead on Sunday following a home-made bomb explosion.
The incident was followed shortly by a third fatality, when a similar improvised explosive device detonated.
All of the blasts occurred in the country's volatile south — where insurgency is stronger than ever after eight years of war — but the statements did not disclose the exact location of the attacks.
On Saturday, two US servicemen were killed in the same region.
According to the icasualties website, which tracks military deaths in Iraq and Afghanistan, 38 foreign soldier, including 25 US nationals, have been killed in Afghanistan so far this year.
New US bids to increase the international presence in Afghanistan may see deployments increase to more than 140,000 troops in 2010, from the current 113,000 international troops already serving under US and NATO command.