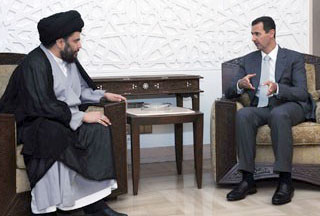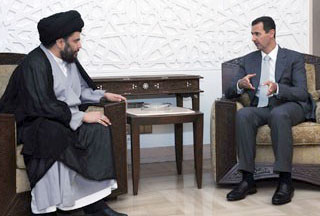 Syrian President Bashar al-Assad has underlined the importance of Iraq's national unity, offering support for any attempt that would promote security and stability in the war-ravaged state.
During a meeting with Muqtada al-Sadr on Monday, Assad highlighted that Damascus deemed it critical for Baghdad to create a positive political climate of national reconciliation.
He also underlined Syria's backing of any well-intentioned effort aimed at consolidating national unity in neighboring Iraq.
Sadr, for his part, expressed high appreciation over Syria's supportive stance regarding the interests of the Iraqi nation and its all-out efforts to preserve the country's national sovereignty and territorial integrity.
Iraq has witnessed a sharp drop in violence over the past 8 months. However, with the withdrawal of US combat forces from Iraqi cities at the end of June, the oil-rich nation faced a momentary surge in unrest.
Iraqi Prime Minister Nouri al-Maliki has blamed the recent acts of violence on militants and extremists whom he said were plotting to take advantage of the transition.
"They (the militants) are preparing to move in the dark to destabilize the situation, but we will be ready for them," Maliki has said.