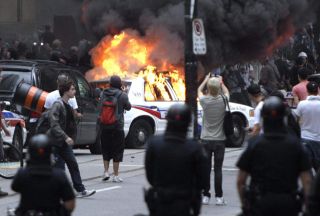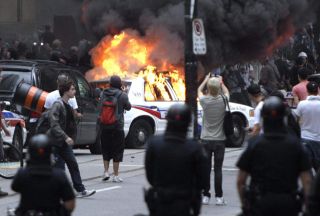 Demonstrations have turned violent at the G20 summit in Toronto, where world leaders are convening to discuss ways to end the global financial crisis.
A number of demonstrators clashed with police while chanting 'resist, resist, raise up your fists.'
At least eight protestors have been arrested on the streets of Toronto, and city residents have been advised not to venture into the downtown area.
During the demonstration, protestors smashed out the windows of a Starbucks and a Scotia Bank on Queen Street.
They also set fire to at least two police cars, which were quickly put out by firetrucks, Reuters reported.
Police with shields and clubs earlier pushed back another small group of demonstrators who tried to head south toward the security fence surrounding the perimeter of the Group of Twenty global economic summit site. Some demonstrators hurled bottles at police.
Anti-globalization activists have staged peaceful demonstrations at almost every high-profile international meeting over the past decade.
Although a number of the demonstrations have become violent, usually, just a small segment of the demonstrators are doing all the violence. Some activists have also said agents provocateurs are behind much of the violence at these demonstrations.