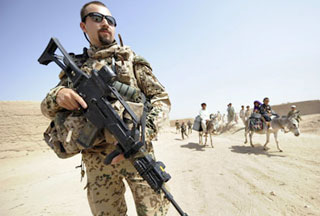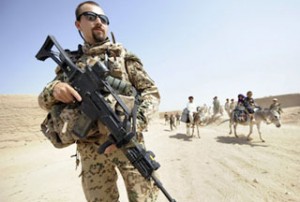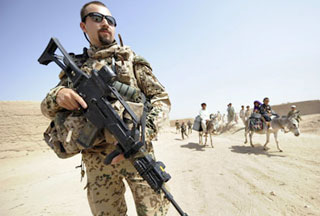 Making August the deadliest month of the eight-year US-led war in Afghanistan, an American soldier has been killed when an improvised explosive blew up his vehicle in eastern parts of the country.
"A US serviceman was killed when the vehicle he was riding in struck a roadside bomb in eastern Afghanistan," the military said in a statement on Friday.
The military statement gave no further details of the location where the soldier from the NATO-led International Security Assistance Force (ISAF) was killed. The NATO-led force also withheld the soldier's identity, pending notification of his next of kin.
According to officials, the terrorist attack also claimed the lives of three policemen and inflicted injuries upon some 30 others.
The latest fatality brought to 806 the number of American soldiers killed in Afghanistan since the start of the US-led war to overthrow the Taliban regime in the aftermath of September 11 attacks on the United States soil in 2001. The toll includes 176 deaths this year alone.
Another two US soldiers were killed Wednesday in attacks in insurgent flashpoints of Afghanistan.
One soldier was killed when an improvised explosive device (IED) blew up in the south and the second died from hostile fire in the east.
Afghanistan has seen rising levels of violence in recent months. Taliban insurgents have carried out a string of deadly attacks and now control large parts of the countryside where Afghan and international forces do not have enough manpower to maintain a permanent presence.
The attacks prompted the administration of US President Barack Obama to send another 4,000 troops to Afghanistan in addition to 17,000 extra troops already deployed in the war-ravaged country. There are around 100,000 US and NATO-led troops in Afghanistan.