Middle East
North America
Palestine
In Occupied lands, Pompeo resorts to Iranophobia to boost slaughterer Netanyahu's reelection bid
On a trip to the occupied Palestinian territories ahead of Israeli general elections, US Secretary of State Mike Pompeo has vowed to step up pressure against Iran in an apparent bid to help Prime Minister Benjamin Netanyahu retain his position.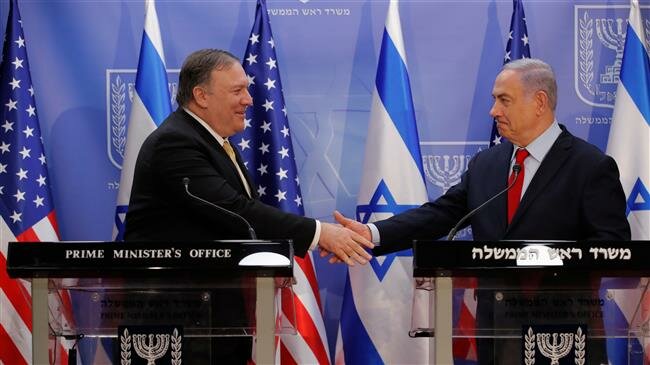 Pompeo and Netanyahu said during a joint press conference on Wednesday that they were going to use all in their power to counter what they referred to as the Iranian "aggression."
"With such threats a daily reality of Israeli life, we maintain our unparalleled commitment to Israel's security and firmly support your right to defend yourself," said the top US diplomat.
Pompeo claimed that the US-led anti-Iran conference in the Polish capital of Warsaw last month, which was attended by Israel and some Arab nations, was focused mainly on exploring possible options "to stop Iran's regional rampage."
The meeting turned into an embarrassing failure for Washington as many countries either refused to attend or decided to send low-level officials to show their discontent with Trump's Iran policy.
Israel and the US have been desperately looking for ways to end Iran's influence in the Middle East region, where it has helped the Iraqi and Syrian governments purge foreign-backed terrorists from most of their territories.
While US President Donald Trump has chosen to drop out of the 2015 Iran nuclear deal and impose more economic sanctions on the Islamic Republic to force Tehran to leave Syria and Iraq, Tel Aviv has chosen a more direct path by mounting numerous attacks against Syrian government positions that it claims are being used by Iranian military advisers.
Flanking Pompeo, Netanyahu reiterated his pledge to prevent Iranian advisers' presence in Syria and thanked the Trump administration for its support.
"There is no limitation to our freedom of action, and we appreciate very much the fact that the United States backs up our actions as we do them," Netanyahu said.
Pompeo's regional tour is focused largely on Iran, but his meeting with Netanyahu has been viewed as a move to help Netanyahu with his re-election fight, especially since he has turned down requests to meet with the Israeli premier's political opponents.
Facing a stiff competition from a centrist alliance in April 9 polls while under threat of indictment for corruption, Netanyahu is slated to arrive in Washington next week, where he will meet Trump twice.
Pompeo said before touching down in Tel Aviv that his trip to Israel was not related to politics, arguing that the "relationship matters, no matter who the leaders are."
'Arab NATO' alliance against Iran
Pompeo, who planned to travel to Lebanon next, began his regional tour in Kuwait where he met Emir Sheikh Sabah al-Ahmad Al-Sabah to discuss the Middle East Strategic Alliance (MESA), a NATO-style bloc aimed at uniting Washington's Arab allies against Tehran.
He has called on Qatar and Saudi Arabia, both members of MESA, to end their ongoing political dispute, where Riyadh and some of its regional allies – including Bahrain and the United Arab Emirates (UAE)—have boycotted Doha since 2017 for funding terrorism and maintaining close ties to Iran.
Qatar denies the allegations and says the rival states aim to incite regime change in Doha.
Israeli-Palestinian conflict
The Israeli parliamentary elections also start the countdown to the presentation of an Israeli-Palestinian agreement that Trump has long been referring to as the "deal of the century."
The product of a Whit House team led by Trump's son-in-law, Jared Kushner, the deal is said to be strongly pro-Israeli.
Pompeo had announced ahead of the trip that he will not meet with representatives of the Palestinian Authority to discuss peace talks.
The PA has cut all ties with Washington in the wake of several hostile moves by the Trump administration, including cutting most of the US aid to the UN agency for Palestinian refugees and the American president's decision in December 2017 to recognize Jerusalem al-Quds as the capital of Israel.
The decision caused uproar among Palestinians, who say the eastern part of the city will be the capital of a future Palestinian state.
Pompeo would also make a stop at the new US embassy in al-Quds during the two-day visit.
Syria's Golan Heights
The trip is also overshadowed by a controversial decision by the White House to change the wording it uses to refer to Golan Heights, Syrian territories that have fallen under Israeli control in 1967.
While the UN refuses to recognize the area as Israeli territory, Washington has announced that it will refer to the Golan Heights as "Israeli-occupied" and calls the territory seized from Syria "controlled" by Israel.
The General Assembly adopted a resolution in favor of Syria's sovereignty over the entirety of the Golan Heights.
The move has been viewed by observers as a prelude to full recognition of the strategic plateau as Israeli land.
Pompeo was also going to meet with with Netanyahu, Greek Prime Minister Alexis Tsipras and Cypriot President Nicos Anastasiades on Wednesday night to discuss the EastMed gas pipeline from the eastern Mediterranean to Europe.