Palestine
In Tel Aviv, tens of thousands protest immunity for Netanyahu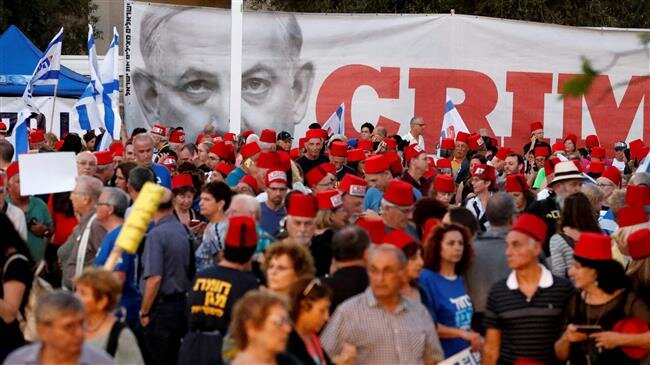 Tens of thousands of people have held a demonstration in Tel Aviv against legislative steps that could grant Prime Minister Benjamin Netanyahu immunity from prosecution and curb the powers of the Supreme Court in his favor.
The protesters gathered outside the Tel Aviv Museum on Saturday for a mass rally organized by Israeli opposition parties under the banner "Stopping the Immunity Law — A Defensive Shield for Democracy."
The demonstration was the first held by the opposition since Netanyahu secured a fifth term in office in general elections last month.
The Israeli premier is facing criminal charges, including of fraud and bribery, in at least three separate cases.
The so-called Case 1,000 involves allegations that Netanyahu received luxury gifts from international billionaires in exchange for favors. In Case 2,000, he is accused of conspiring with the owner of the Yedioth Ahronoth newspaper to undermine a critical daily. And Case 4,000 involves allegations that Netanyahu offered incentives to the Israeli telecom provider Bezeq in return for positive stories in the Walla news website.
All of that has earned him the title "crime minister."
Netanyahu is due to attend a pre-trial hearing on corruption allegations with the Israeli attorney general, set for October.
Reports say Netanyahu is attempting to finalize deals with his likely coalition partners, seeking their support for legislative moves to safeguard him from prosecution in the three cases. He is also planning to have the powers of the High Court of Justice restricted so that it will not be able to strike down efforts to protect him.
In an address to the rally on Saturday, Benny Gantz, the co-chairman of the centrist Blue and White alliance who ran against Netanyahu in the April elections, said Israel's "dream" was "falling apart" under Netanyahu's leadership.
"There are those who are attempting to replace people's rule with the rule of a single man and to enslave an entire nation to the interests of one man," Gantz said.
He said Netanyahu had deceived voters, adding that Blue and White would not let Israel become "the private estate of a royal family or sultanate."
One protester told The Times of Israel, "Netanyahu is a corrupt dictator who belongs in jail." Others chanted, "Bibi to jail!"
"We will take this protest to Netanyahu's house. We will sacrifice our lives if we have to," said another demonstrator, also according to The Times of Israel.
Blue and White co-chairman Yair Lapid told the crowd, "What does he (Netanyahu) think, that we'll sit here quietly? That he'll destroy the courts and we'll be silent? We're here because we're angry!"
Additionally, Arab Israeli lawmaker Ayman Odeh, who is the leader of the Hadash-Ta'al Party, addressed the protest calling for "Arab-Jewish partnership" to enact change.
Netanyahu's right-wing Likud Party dismissed the Tel Aviv rally as a "joke."