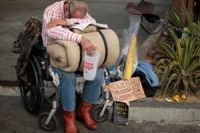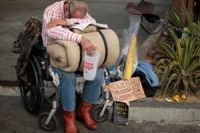 A new study shows that the rise in income inequality in the United States has reached a 50-year high, according to a study by the Federal Reserve Bank of Minneapolis.
The increase in income disparity is being driven by the dramatic rise in the number of people out of work for long periods of time, the study said, adding that those most affected are low-income households.
The study determined that the percentage of US workers unable to find jobs for six months or longer has doubled to 45 percent.
Federal Reserve Chair Janet Yellen has called the growing income gap between rich and poor "one of most disturbing trends facing the nation."
Yellen has also said she is very concerned with the "devastating" effects of long-term unemployment.
The US economy plunged into the Great Recession in December of 2007. Nearly 9 million people lost their jobs over the next two years. The recovery over the past five years has been weak and the country's job growth erratic and uneven.
Minneapolis Federal Reserve monetary adviser Fabrizio Perri wrote in his analysis posted on the bank's website Wednesday that households in the bottom fifth are suffering the most from the situation.
"The increase in inequality at the bottom seems tightly linked to the very large increase in long-term unemployment, which has depressed income for the bottom," Perri said.