India
North America
India joins US-led naval drills in South China Sea amid tension with Beijing
India's warships have taken part in a US-led naval exercise in the contested South China Sea along with warships from Japan and the Philippines joining an American guided missile destroyer.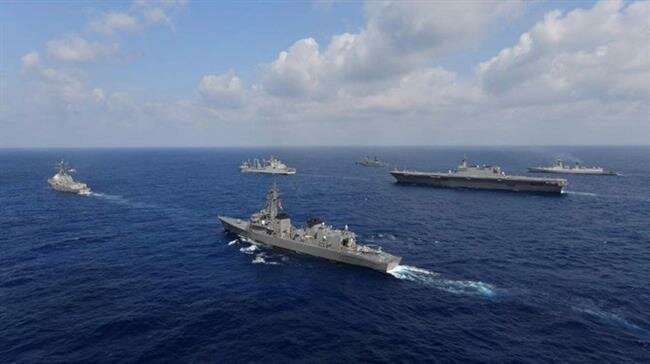 While the American Navy has held similar war games in the waterway claimed by China, the week-long joint drills by the four countries is seen as a new US-led attempt to challenge Beijing.
Indian Navy said in a statement that the joint maneuver was intended to "enhance maritime cooperation, synergize maritime engagements, share best practices and standardize operating procedures."
India's naval destroyer INS Kolkata and tanker INS Shakti joined the US warship, along with Philippine patrol ship BRP Andres Bonifacio and six ships from four countries.
The drills marked the first time the four countries joined forces in the contested Pacific waterway against a backdrop of growing tensions over territorial disputes in the region.
According to press reports, the warships conducted formation exercises, communication drills, passenger transfers, and held a leadership exchange as they crossed the South China Sea,
China claims nearly the entire strategic South China Sea with Brunei, Indonesia, Malaysia, the Philippines, Taiwan and Vietnam pushing competing claims to parts of the maritime region. However, the US, Japan and India do not have any territorial claims there.
The US-led maneuvers came after two other US warships sailed on Monday near islands in the region claimed by China, provoking a protest from Beijing, which said the move infringed on its sovereignty.
China warns off US warships in disputed seaBeijing says its navy warned off two US navy ships that violated Chinese sovereignty by sailing close to the disputed islands in the South China Sea.
Washington continues to refer to such exercises as "freedom of navigation operations" in international waters around the globe, even in seas claimed by its allies, without political considerations.
In yet another challenge to China in Asian waters, the USS William P. Lawrence and another American warship sailed through the Taiwan Strait last month separating Taiwan — which Beijing views as a renegade province — from the Chinese mainland.