Syria
Indian Ambassador in Damascus: Syria is Facing Extremist Movements That Hold no Value to Human Life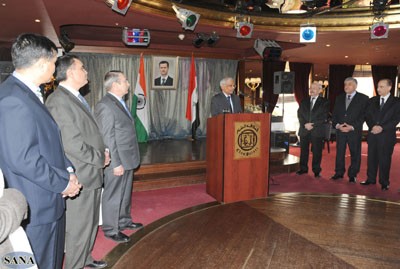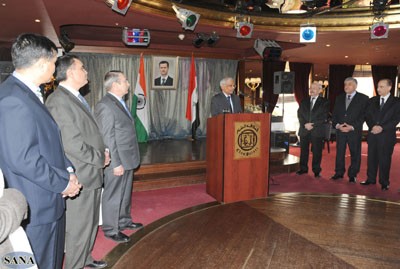 India's Ambassador in Damascus V. P. Haran on Tuesday affirmed that Syria is facing extremist, violent movements that hold no value to human life, voicing confidence that Syrians are capable of moving towards peace and achieving development and national reconciliation.
In a speech delivered at the reception organized by the Foreign and Expatriates Ministry on occasion of the end of his mission as ambassador to Syria, Haran said that India is very interested in what is happening in Syria and that he relayed the truth about what is happening, as his country's foreign ministry has been getting its information from the Indian Embassy in Damascus directly, not from mass media.
Haran reviewed the joint projects and the advanced relations between Syria and India, noting that his country continued to develop cooperation relations even during the current events, particularly in the fields of education and scholarships.
For his part, Assistant Foreign and Expatriates Minister Ahmad Arnous underlined the strong and historic relations between the two countries and the need to continue developing them.
Arnous said that the two countries share the belief that Syria will be safe and strong as it was before, thanking India for all its efforts in the UN, Security Council and international and regional circles and its support for international principles of non-interference in countries' internal affairs.
Arnous presented a commemorative gift to Haran as a gesture of appreciation of his efforts to strengthen cooperation between India and Syria.