Asia-Pacific
India
India's top court refuses to stop execution of anti-Muslim citizenship law
India's top court has refused to stop the implementation of a new controversial citizenship law that is widely considered anti-Muslim.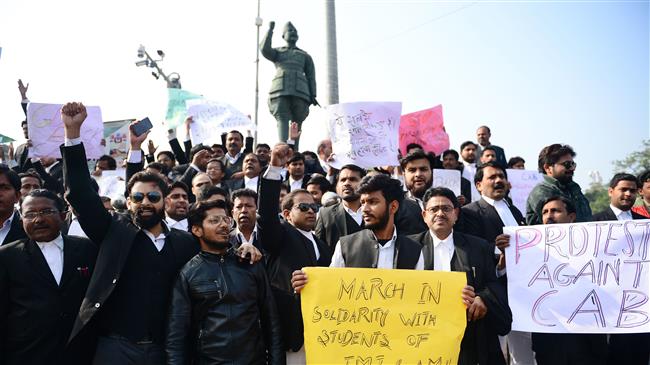 India's Supreme Court said on Wednesday that it would hear petitions challenging the contentious citizenship law on January 22, meaning that the law would proceed to be implemented in the meantime.
The petitioners argue that the law runs contrary to the Indian Constitution.
The Citizenship (Amendment) law, which seeks to grant citizenship to immigrants — barring Muslims — from neighboring countries, has sparked massive protests across the nation.
The protests have also spread to universities across the country, with police storming campuses and firing tear gas at students.
Authorities have imposed internet blackouts and used force to shut down rallies and sit-ins across several states.
Human Rights Watch has called for police to show restraint in confronting the unrest.
Muslims in India protest against citizenship lawIndian Muslims on Friday across the country took to the streets in agitation against the new citizenship legislation.
The law, which was passed by Hindu-nationalist Prime Minister Narendra Modi's government last week, allows granting citizenship to the millions of migrants who came into India — legally or illegally — from Pakistan, Bangladesh, or Afghanistan before December 2014, but not if they are Muslim.
Modi hails from the hard-line Hindu Bharatiya Janata Party (BJP).
Many Muslims in India say they have been made to feel like second-class citizens since Modi came to power in 2014. While he has been officially absolved, he is blamed by many for a violent crackdown on the Muslim community in the state of Gujarat in 2002, when he was the chief minister of the state.