Asia-Pacific
Indonesia halts 'large-sale operations' for recovery of sunken AirAsia plane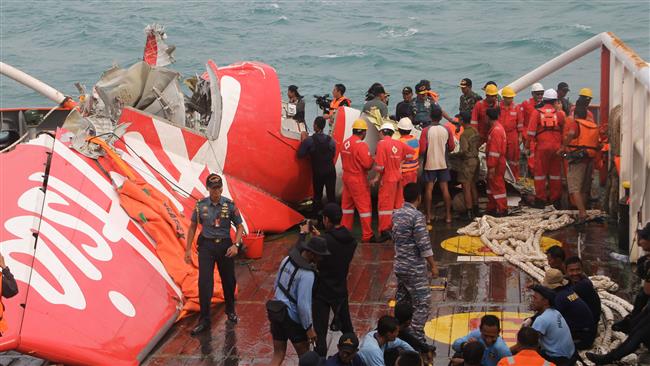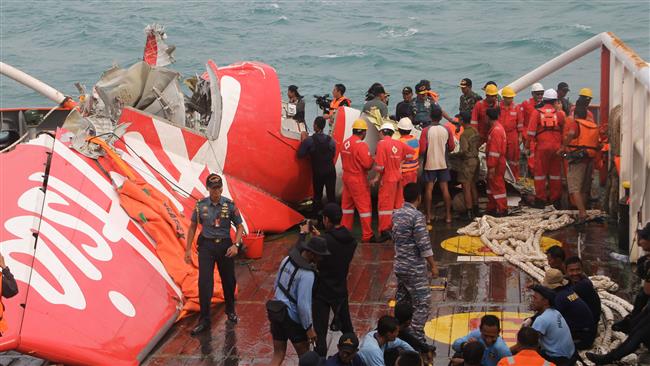 Indonesian officials have halted "large-scale operations" to retrieve the ill-fated AirAsia aircraft due to a failure in lifting the fuselage.
"All of our forces are being pulled out," said Rear Admiral Widodo, an Indonesian navy official supervising the search and rescue operation, on Tuesday.
Noting that the lifted body of the plane was "torn apart," military spokesman, Fuad Basya, said, "We can no longer find any more bodies."
In recent days, search and rescue teams have twice failed to retrieve the fuselage of the sunken AirAsia plane.
A total of 70 bodies, out of the 162 people aboard, have been recovered so far, according to reports. Authorities say "smaller-scale operations" will be carried out for the remaining 92.
Indonesia's national search and rescue agency's head, Bambang Soelistyo, said they will try to fulfill hopes and expectations of the victims' relatives, "but the operation will not be a large-scale one."
The operation to lift the main body was launched on January 23 and resumed Sunday. However, it failed in both attempts when the body of the plane sank and more bodies sank deep in the sea.
The Indonesia AirAsia Airbus A320 disappeared en route to Singapore from Surabaya in Indonesia on December 28, 2014. The aircraft was later found to have crashed in the Java Sea.
The Indonesian Agency for Meteorology, Climatology and Geophysics has said that bad weather was the key factor behind the flight QZ8501 crash, specifically pointing to icy conditions as the likely cause of engine failure.