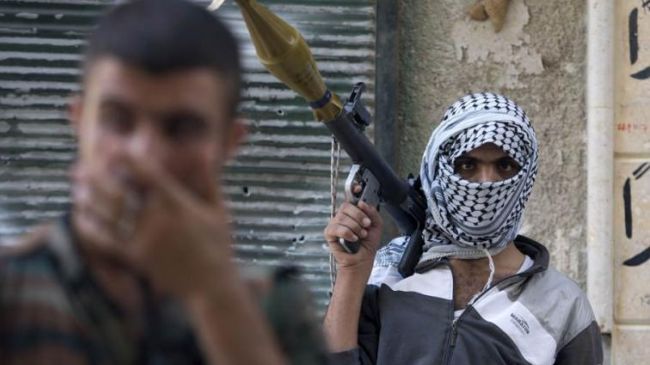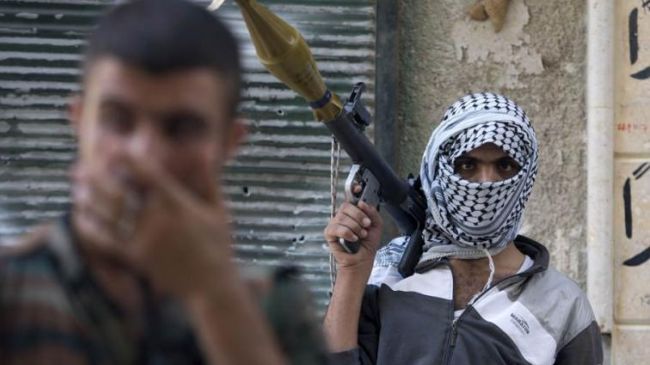 At least six militants from the so-called Free Syrian Army (FSA), including a field commander, have been killed in an ambush by members of the al-Qaeda-linked group of the Islamic State of Iraq and the Levant (ISIL).
According to reports, the clashes between the two foreign-backed terrorist groups broke out in the northern Aleppo Province on Sunday.
The battles among the al-Qaeda-affiliated militants and the FSA members in Syria have so far claimed hundreds of lives on both sides.
The fierce skirmishes come as delegations representing the Syrian government and foreign-backed opposition are engaged in talks in the Swiss city of Geneva but failed to produce any concrete results yet.
The negotiations resumed on Sunday after the two sides sat together in the same room for the first time on Saturday and held two face-to-face meetings.
The Geneva II conference on Syria kicked off in the Swiss town of Montreux on January 22 with the aim of finding a political solution to the crisis in the Arab country.
The foreign-backed opposition and its Western supporters, including the US, insist that President Bashar al-Assad must step down and a transitional government be formed in Syria.
However, Damascus has rejected the demand, arguing that the foreign-backed coalition does not represent the Syrian opposition.
Syria has been gripped by deadly violence since March 2011.
Reports show that the Western powers and their regional allies — especially Qatar, Saudi Arabia, and Turkey — are supporting the militants operating inside Syria.