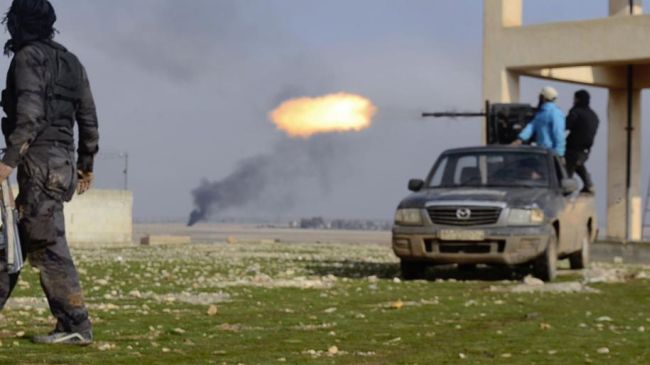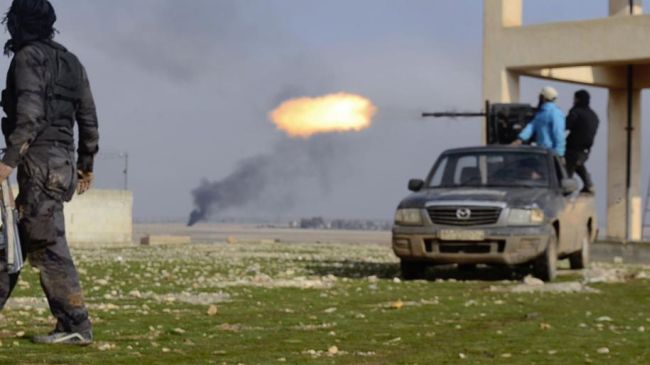 Infighting between foreign-backed militants across Syria has killed at least 50 and injured dozens since Friday, a Britain-based group says.
The so-called Syrian Observatory for Human Rights, which relies on a network of spies working for the foreign-backed Syrian opposition, said on Sunday that the militants were killed in fighting, car bombings and summary executions.
The deaths came on day three of fighting that erupted when militants attacked checkpoints and bases manned by al-Qaeda-linked extremists of the Islamic State of Iraq and the Levant (ISIL), who have recently captured key roads and checkpoints from their opponents.
Most of the militants were killed in the northern provinces of Aleppo and Idlib.
Among the dead were "seven who were summarily executed by ISIL", said London-based group, adding that at least nine ISIL extremists were also killed.
On Sunday, fighting between the militants also began in Raqqah and Hama provinces.
A recent British defense study showed that about 100,000 militants, fragmented into 1,000 groups, are fighting in Syria against the government and people.
The extracts of the study by defense consultancy IHS Jane's were published on September 16, 2013.
IHS Jane's estimates that some 10,000 militants are fighting for groups affiliated with al-Qaeda and the rest fight for different militant groups.
The analysis also said that a large number of extremists from foreign countries are also active in Syria.
Syria has been gripped by deadly unrest since March 2011. According to reports, the Western powers and their regional allies — especially Qatar, Saudi Arabia, and Turkey — are supporting the militants operating inside Syria.
According to the United Nations, more than 100,000 people have been killed and a total of 7.8 million of others displaced due to the violence.