Syria
Information Minister: Neither Russia nor any one put pressure on Syria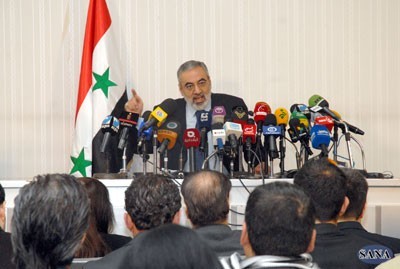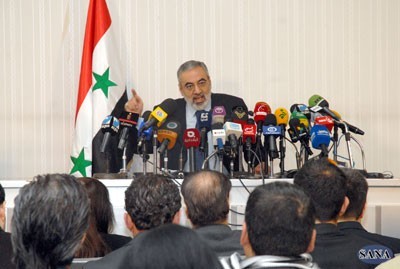 Information Minister Omran al-Zoubi said there is an unprecedented media escalation campaign against Syria as most of the news are "baseless and untrue,"
In an open meeting with representatives and correspondents of Arab and foreign mass media and news agencies accredited in Syria on Sunday, al-Zoubi said " We are optimistic that Syria, the state, the nation and the people are going to overcome the crisis and triumph over the foreign aggression,"
" Neither Russia nor any one put pressure on Syria and the Syrian political resolution regarding all political matters is a pure sovereign decision," he said, adding that "there is no change in the Russian position and discourse,"
Al-Zoubi added that national dialogue is a dialogue among the Syrians and with those who believe in dialogue as a prelude to a political process, noting that "those who rejected dialogue and called for taking up arms are in fact afraid of the results of this dialogue."
"The Syrian Arab army is not a party to the confrontation but it represents the homeland and people, "al-Zoubi said, affirming that there is no such thing as positive or negative, acceptable of unacceptable terrorism.
"Terrorism is terrorism… Whoever commits a terrorist act is a terrorist, regardless of his nationality or affiliation," al-Zoubi said.
"The minimum of patriotism requires the rejection foreign military intervention, with the maximum being the martyrs who are sacrificing their lives…Patriotism demands rejecting outside dictates and all forms of interference," he said.
Al-Zoubi said that Syria is not arming the PKK and does not allow anyone to launch an aggressive action against any country across its borders, affirming that "If anyone has documents or proofs, let him submit them…The age of media exaggeration has come to an end, and we possess documents and proofs of a Turkish involvement in Syria."
"Only Syrians will take part in any Syrian national dialogue, and we'd like to say to those who reject dialogue "Make haste to move to political action, for time is running out."
"The view of Vice-President Farouq al-Sharaa is but one among the views of 23 million Syrians…Syria is a state that is ruled by institutions and leaderships which have the final say…When the Syrian army defends the country, it doesn't think about the scope of sacrifices or the consequences of the battle. The takeover in a battle is eventually dictated by the battle circumstances, and the political leadership in Syria was first to propose political solution through national dialogue since day one,"said al-Zoubi.
He added that "The Syrian Arab army had not interfered in al-Yarmouk Camp…We don't want to involve the Palestinian camps in the crisis…Palestine will remain at the core of the conflict and the central cause for Syria, and the Palestinian people in Syria and outside will remain part of our cause, identity and future. Waging on anything to the contrary is a losing bet."
The information minister went on to say that "Iraq is a brotherly country that we care for its security and stability, and we oppose interference in its affairs. Foreign powers have to stop their interference in the Iraqi affairs, particularly Turkey and the Gulf countries."
"It is not a source of concern for us who is appointed in the US, but rather the US policies. Let's wait and see how it will act or whether the US will commit to its decision to designate Jabhat al-Nusra as a terrorist organization or rather persevere in its backing to it."