Syria
Information Minister : We are in Geneva to launch a realistic political track that takes care of Syria's affairs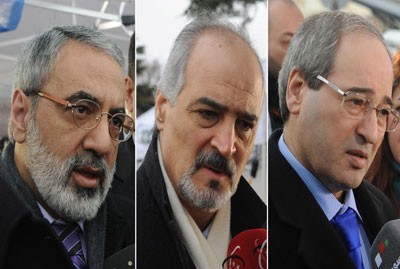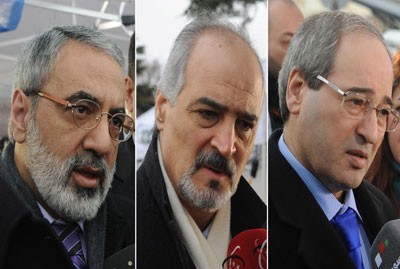 Minister of Information, Deputy Head of the Syrian Official Delegation to Geneva2 Conference, Omran al-Zoubi, stressed that the delegation is in Geneva to launch a logical, realistic, political work and a track that takes care of the Syria's affairs and not to allow others to interfere in , pointing out that the delegation is waiting for something similar to that from the other side.
"We are open to all discussions within Syria's political orientations, particularly regarding Syria' s reservations over Geneva1 Communiqué ," al-Zoubi told reporters in Geneva, pointing out that "the other side should not be surprised of that because after the issuance of Geneva1 Communiqué, directly, the official political stance was declared, as the UN and the major states were informed of these reservations ,"
"If the other side is surprised of this issue now, it is its own problem because we have a stance regarding this issue, and we have stances regarding other issues, as we have the ability to discuss and debate in detail , along with the pursuit for providing an atmosphere that could combine common efforts for restoring security and stability to Syria.
The Information Minister pointed out that UN Envoy to Syria, Lakhdar Brahimi, talked on Friday on "half-step to complete the step" in terms of the logistic preparations for today, but the other delegation seemingly suffers from an internal structural problem or a blur of an integral political opinion, as it was leaked by their circles that some of their delegation will attend others won't, while some others want to discuss in view of different means or priorities.
Al-Zoubi pointed out that the coalition delegation of the so-called 'opposition' has wasted time in a breach to the UN invitation.
Mikdad: Our mission is to get the Syrian people out of the catastrophe imposed by the neo-old colonial circles
Deputy Foreign and expatriates Minister and member of the Syria's official delegation to Geneva 2 Conference, Fayssal Mikdad said that "we believe that getting the Syrian people out of the catastrophe imposed by the neo-old colonial circles is our main mission.
Mikdad told journalists in Geneva ""We hope to start today.. as beginnings of the political work are usually humble, but we are optimistic that we will build upon these humble beginnings because we wish to have Syria's people out of the catastrophe they encounter due to the acts of terrorist groups, and also because many countries, on top, Turkey, Saudi Arabia, France, Britain and the US arm and fund the terrorists then sending them to Syria to kill our children and destroy our schools and hospitals."
Mikdad added "We need serious discussions and Interlocutor, but not manipulation of this side or that," underlining that "We will have a firm stance towards such these behaviors and in case the coalition delegation called 'opposition' didn't come, we would say "Enough for manipulation and mockery."
He reiterated that Syria's official delegation came to Geneva with strong will and upon the directives and instructions of President Bashar al-Assad to make this conference a success which shows his good intention to reach an outcome out of this conference.
Mikdad pointed out that discussions were supposed to start yesterday (Friday) , but the other side didn't appear and there are many interpretations for that.
On meetings of Syria's official delegation with Russian and Mikdad said US delegations, Mikdad pointed out that bilateral meetings are being held, asserting that "the official delegation didn't meet the US delegation."
He affirmed that the will of the Syrian people will overcome terrorism and killings at the end.
Al-Jaafari: We are in Geneva to discuss seriously issues of counterterrorism, launching political dialogue
Syria's Permanent Representative to the UN, Bashar al-Jaafari, stressed that Syria's official delegation is in Geneva to seriously tackle issues of counterterrorism, cessation of killing acts and engaging in a political dialogue so that it eventually serves the Syrian people and the construction of the country.
Al-Jaafari told journalists in Geneva "We are here seriously speaking to discuss with the other side through Brahimi barometers and standards that would lead all of us towards a good exit to the crisis," al-Jaafari said.
He pointed out that to achieve that, it requires responsible people who keep off from provocation, incitement and personal spite existed at the majority of the other side's members.
"To do so, we need first of all to stop the violence because this is item one in Geneva 1 communique and in Kofi Annan's plan… Then we will move forward towards discussing the other topics," he clarified.
"So we need to be committed towards a more responsible political language used in our dialogue as well as in our statements to the media so that there will be no personal hatreds, there will be no provocations and there will be a positive spirit and open-minded negotiators, otherwise we will stay where we are," al- Jaafari continued to say.
Al-Jaafari said "There is an international interest in the crisis in Syria and a desire of many sides to help us overcome the ordeal, that is why we are here withclear instructions, so we avoid all sorts of disturbance and start a serious dialogue process, hoping that the other side is serious too though it does not represent all spectrums of the Syrian national opposition.
Answering a question on the transition of the executive authorities and Geneva Communique, al-Jaafari said " This is a hasty reading of the Geneva Communique… this issue is not included in Geneva Communique. ..it should be readin its entirety and comprehensiveness without selectivity… That is what we should focus on."
The Syrian envoy answered a question on the provocations, particularly the issue of the fabricated photos published lately, saying " There are modern technologies and international intelligence that are able to fabricateeverything, and that is why the present time is tough and complicated, where disturbance and lying are easy things to do…the allegations of the perpetration of a massacre shown in photos reminds us of the allegation of the use of chemical weapons only to turn out later that such a pretense is an utter falseness.
Al-Jaafari rejected what the media outlets do in terms of utilizing the blood of the Syrians because the Syrian people are those who are losing, clarifying thatlying is an old media weapon, giving an instance of the lie, upon which the US invaded Iraq, with no Security Council resolution related to an actual presenceof weapons of mass destruction found in Iraq has been issued so far.
He called upon the audience not to believe whatever they hear, pointing out that the official delegation is not only debating with the other delegation's members, but rather there are minds and intelligence circles that train them on dialogue, that is why media is part of the general political and diplomatic scene.
Al-Jaafari clarified that on the day of inaugurating the conference in Montruex, the coalition delegation was not in the hall, which is a childish behavior in a conference that is named 'international', and then everybody saw the U.S. Ambassador calling upon them to enter besides him, that is in terms of form.
He added that works of the conference was expected to start yesterday, and in the morning session, the delegation of the Syrian Arab Republic arrived in the hall along with Brahimi and his delegation, but the other delegation did not show up or attend the meeting, which is a surreal, childish scene that does not seem to be up to a delegation that calls itself a "negotiating delegation."
Al-Jaafari pointed out "Most of the delegations invited had a hostile language regarding the Syrian policy in order to give an impression that the Syrian governmental delegation is isolated, and that has not succeeded because our discourse was bold, realistic, strong and tackled those who have been involved in shedding the Syrian blood without addressing them in person."
Syria's Permanent Representative to the UN considered that the United Nations and its Secretary General are living in a constant state of concern because the UN itself is a hub for the international tensions instead of being a place for solving them because there are hegemonies that dominate the decision making, adding that the number of armed conflicts around the world has doubled three times since the World War II, so the United Nations is dealing with conflicts as a result of existence instead of being a safety valve; however, it is indispensable and we are dealing with as a fait accompli.