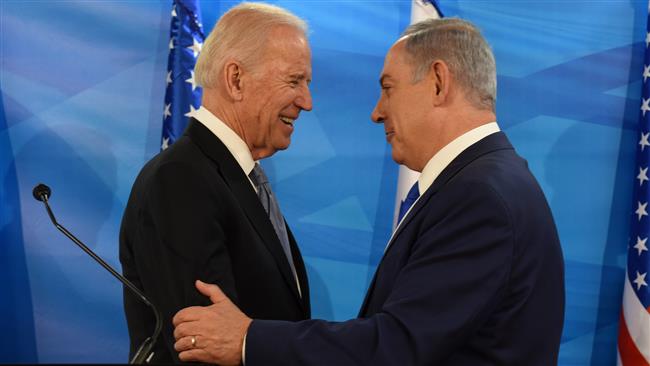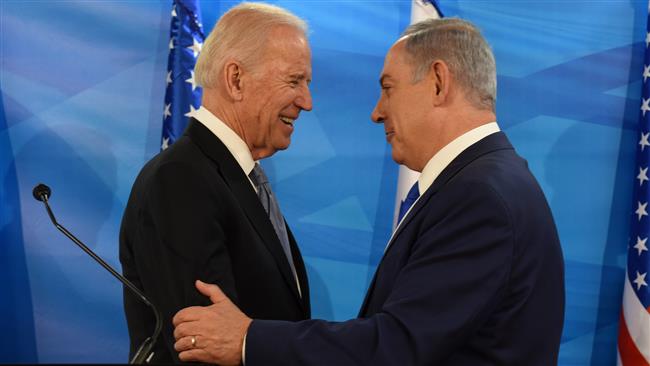 US Vice President Joe Biden, who is on a trip to Tel Aviv, has assured Israeli Prime Minister Benjamin Netanyahu that Washington will "stand firmly behind Israel" amid heightened tensions in the occupied territories. 
Biden's visit to Israel comes amid surging tensions in the occupied lands following Israel's imposition in August 2015 of restrictions on the entry of Palestinian worshipers into the al-Aqsa Mosque compound in East al-Quds (Jerusalem).
On Wednesday, Israeli military forces shot and killed three Palestinians over alleged shooting and stabbing attacks across the Old City of al-Quds as well as the Israeli-occupied West Bank, raising the number of Palestinians killed since last October to about 200.
"There can be no justification for this hateful violence and the United States stands firmly behind Israel's right to defend itself," Biden told reporters Wednesday, after meeting with Netanyahu.
He highlighted his deep personal and professional friendship with the Israeli premier, adding that the bond between Washington and the Tel Aviv regime "can never be broken," despite differences.
"It doesn't mean we don't disagree but you never need to doubt that the United States of America has Israel's back… and we know Israel has our back as well," Biden continued.
US President Barack Obama has long butted heads with Netanyahu over a number of issues, including the expansion of illegal Israeli settlements in the occupied Palestinian lands.
During Biden's last visit to Israel in 2010, Netanyahu announced new settlement construction in the West Bank. The American VP said at the time that the move threatened to undermine the peace negotiations with the Palestinians.
Israeli concerns about Iran deal
The months-long dispute between the US and Israel over the Iran nuclear deal was also discussed by the two allies during the meeting.
The accord put limits on Tehran's nuclear program in exchange for removal of all nuclear-related economic and financial sanctions against the Islamic Republic.
The Obama administration has tried to allay Israeli concerns about the deal, and Biden addressed the issue in his remarks on Wednesday.
"A nuclear-armed Iran is an absolutely unacceptable threat to Israel, to the region and the United States," Biden said. "If in fact they break the deal, we will act."
Other issues such as the threat posed by Daesh (ISIL) and an increase in the annual US military aid to Israel were also discussed by Biden and Netanyahu.
Biden is on a Middle East tour which involves stops in Israel, the West Bank and Jordan.