North America
Inhuman zionist rabid settlers attack The Holy al-Aqsa Mosque compound again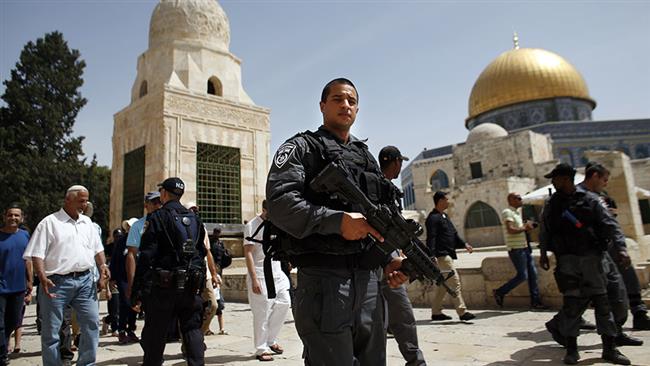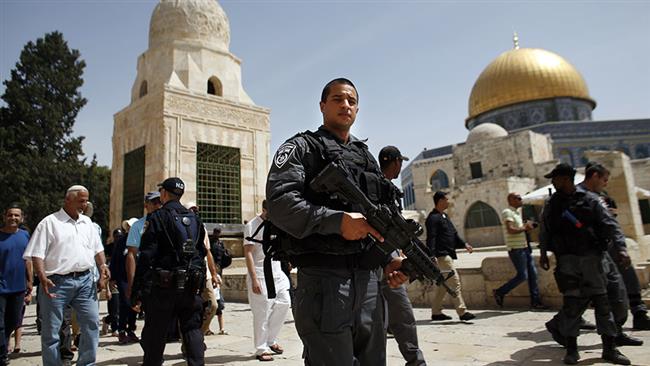 Israeli settlers have stormed the al-Aqsa Mosque compound in Jerusalem al-Quds in the latest incursion into one of the holiest sites in Islam.  
At least 100 settlers broke into the compound through the Moroccans' Gate on Wednesday under the full protection of Israel's special police forces, the Ma'an news agency reported.
The Islamic Waqf, which manages the al-Aqsa Mosque affairs, held Israeli authorities responsible for the incursion and reneging on international laws.
The religious trust stated that al-Aqsa Mosque is revered by more than 1.6 billion Muslims worldwide, and that the existing accords prohibit Jewish prayers at the mosque.
On Monday, Israeli Knesset (parliament) speaker Yuli Edelstein joined three cabinet ministers and three lawmakers to launch a lobby on changing the al-Aqsa Mosque status quo and permitting Jewish rituals there.
The al-Aqsa Mosque compound is a flashpoint holy Muslim site, which is highly respected by Jews and Christians as well. The mosque is Islam's third holiest site after Masjid al-Haram in Mecca and Masjid al-Nabawi in Medina, Saudi Arabia.
Palestinian sentenced to 16 years in prison 
Meanwhile, an Israeli court in Jerusalem al-Quds has sentenced a 27-year-old Palestinian man to more than 16 years in prison over an alleged stabbing attack in October last year.
The court ruled on Wednesday that Miqdad al-Hih carried out the attack along with another Palestinian in the city of Beit Shemesh west of Jerusalem al-Quds on October 22, 2015.
Hih was critically injured after Israeli forces opened fire on him. The other Palestinian, identified as 20-year-old Mahmoud Khalid Ghneimat, was shot dead.
The occupied territories have been the scene of increased tensions ever since Israeli forces imposed restrictions on the entry of Palestinian worshipers into the al-Aqsa Mosque compound in August 2015.
More than 250 Palestinians have been killed by Israeli forces since the beginning of October 2015.