Iran
Middle East
Intelligence Minister: Iran Resolute to Retaliate Terrorist Attack on IRGC Bus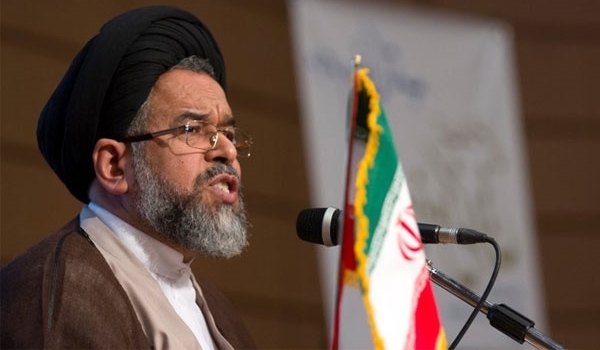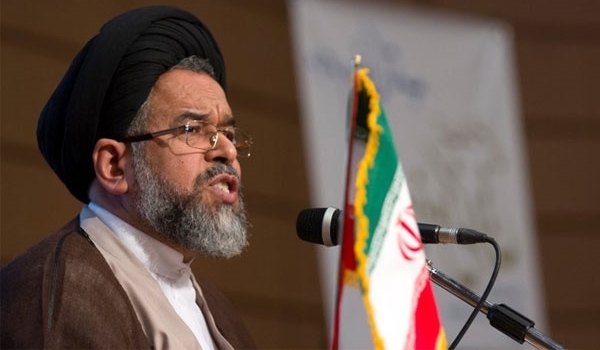 Intelligence Minister Seyed Mahmoud Alavi said that Iran is planning for a crushing response to the Wednesday terrorist attack on the personnel of the Islamic Revolution Guardians Corps (IRGC), highlighting that Tehran will never leave a terrorist attack unanswered.
"Assuredly, we will never leave such terrorist attacks unanswered," Alavi said today, on the sidelines of a ceremony to commemorate the 27 martyrs of the attack.
The senior security official reassured that planning is underway for a crushing response, adding that retaliation is a national demand.
"There is good convergence and synergy between relevant security bodies of the country for this purpose," Alavi highlighted, adding that discussions are underway in the Supreme National Security Council.
Dozens of IRGC members were killed or wounded after their bus came under a terrorist attack in Iran's Southeastern Sistan and Balouchestan province last Wednesday evening.
The bus was carrying IRGC personnel on a road from the city of Khash to the provincial capital of Zahedan when a truck loaded with explosives and moving alongside the bus detonated.
A statement released by the Quds Base of the IRGC's Ground Force said the bus was carrying a group of IRGC personnel "coming back from a border guarding mission when it came under a suicide car attack by Takfiri terrorists", but did not mention the number of passengers.
"27 IRGC members have been martyred and 13 others wounded in the terrorist attack so far," the statement said, and further blamed "the intelligence services of hegemonic system – a phrase used normally to refer to the United States and its allies – and Zionism for supporting the attack".
The US officials have repeatedly stressed that they would take every possible measure to pressure Tehran, including support for groups operating against Iran. The incident came hours before the start of a US-sponsored security conference against Iran in Warsaw, Poland.
US Secretary of State Mike Pompeo told Fox News last month that Washington would jointly host a global summit focused on Iran and the Middle East in Poland in February, but senior US diplomats later softened tone to shift the conference title to security in the Middle-East, denying that Iran would top or be the main agenda. The gathering took place in Warsaw from February 13 to 14, the US State Department said in a statement.
Meantime, Jeish Al-Adl, a Pakistan-based radical Wahhabi terrorist group staging cross border attacks into Southeastern Iran from South-West Pakistan, has claimed responsibility for the attack in a statement.
The group has bases in Southwestern Pakistan and started operations nearly 6 years ago after recruiting the remnants of Jundullah notorious terrorist group and reorganizing them. Iran had captured leaders of Jundullah notorious Wahhabi terrorist group and dismantled the terrorist organization years earlier.
In mid-October, Jeish al-Adl had abducted 14 Iranian Basijis (volunteer forces) and border guards at Mirjaveh border in Southeastern Sistan-Balouchestan province. Five were released a month later on November 15.
The IRGC Ground Force then blamed foreign intelligence services for supporting and assisting the terrorist group.
Jeish al-Adl also abducted five Iranian border guards in Jakigour region of Sistan and Balouchestan Province and took them to Pakistan in 2014. After two months of abduction, four of them were released and the fifth one was killed. His body was returned to Iran months later.
Then early in March, 2015, Pakistani sources told the country's media that authorities in Southwestern Pakistan had arrested the ringleader of Jeish al-Adl terrorist group as he was traveling on a bus from the lawless border area.
Salam Rigi, cousin of the Jundollah terrorist group's ringleader Abdolmalek Rigi, was seized by Pakistani authorities who were tipped off to his movements and intercepted the bus some 50 km from Quetta, the capital of Pakistan's Baluchistan, a security official said on the condition of anonymity.
Salam Rigi was accused of involvement in suicide bombings in Iran and Pakistan, as well as sending terrorists to the conflicts in Iraq and Syria.
Other sources said the terrorist arrested was Abdo-Sattar Rigi (Abdolmalek's brother), explaining that he was carrying his cousin's ID card at the time of arrest, but further investigations revealed his true identity.
Later reports proved that the captured terrorist was Abdo-Sattar Rigi.
Abdo-Sattar (the third of the notorious Rigi brothers) headed the Jeish al-Nasr terrorist group, but his cousin Salam leads Jeish al-Adl.
Abdo-Sattar's two older brothers, Abdolmalek and Abdolhamid Rigi, who led the more powerful terrorist group, Jundollah, were both captured and condemned to death by Iran earlier.
In early 2009, Abdolhamid Rigi, the Jundullah terrorist group's number two man and brother of its ringleader Abdolmalek Rigi, was arrested by Iranian security forces.
Abdolhamid had conducted a number of bombing operations and other violent attacks in Iran resulting in many casualties and was sentenced to death by the court in 2009, but his execution was delayed on several occasions. Officials did not mention any specific reason for the delayed execution of Abdolhamid at the time.
Iran arrested Abdolmalek Rigi, the number one man of the Jundollah terrorist group in late February 2011. Abdolmalek was executed in June 2011.
Iranian military and police officials voice concern over the presence of terrorist groups in Pakistan's territories, criticizing the Pakistani army and border police's lax control over shared borders.
The two sides' state and military officials have exchanged frequent visits to enhance anti-terrorism cooperation specially in border regions. In early December, top security officials from Iran and Pakistan met in Iran's Southeastern city of Zahedan to hold the 22nd joint meeting on border cooperation between the two countries.
Late in October, Commander of the IRGC Ground Force Brigadier General Mohammad Pakpour announced his forces' preparedness to launch joint operations against the terrorists who abducted the Iranian border guards in Southeastern Iran.
"We have had different contacts with the Pakistani army and urged them to guarantee extradition of the outlaws and healthiness of the abductees and they should show more responsibility," General Pakpour said, referring to the fate of the 9 border guards that are still kept by Jeish Al-Adl.
"These terrorists have a stronghold and a base on Pakistan's soil and we are prepared for any joint operations with the Pakistani army against the outlaws to release the hostages," he added.