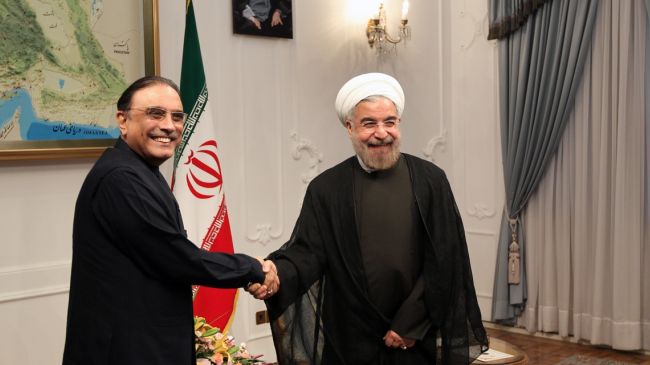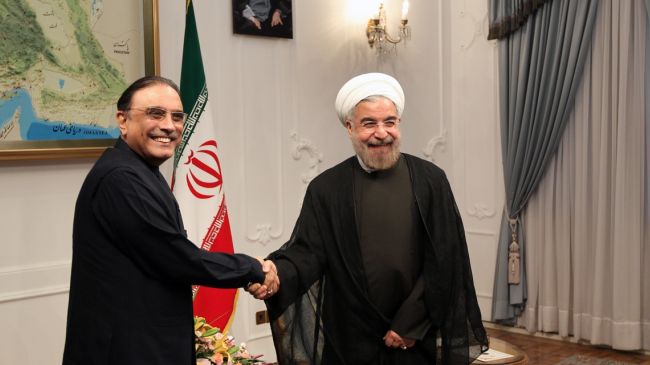 Iranian President Hassan Rohani says the joint multi-billion-dollar pipeline project between Tehran and Islamabad can boost bilateral economic cooperation.
In a meeting with Pakistani President Asif Ali Zardari on Saturday, Rohani said, "The joint project of building the gas pipeline can have a significant influence on increasing cooperation and economic relations between the two countries."
The Iranian president expressed hope that the project would be completed as soon as possible.
The Iran-Pakistan gas pipeline will enable the export of 21.5 million cubic meters (mcm) per day of Iranian natural gas to Pakistan.
The final construction phase of the pipeline was inaugurated by Iran's former President Mahmoud Ahmadinejad and Zardari, on March 11.
The IP pipeline is designed to help Pakistan overcome its growing energy needs at a time when the country of over 180 million people is grappling with serious energy shortages.
Iranian President Rohani also expressed hope that a new chapter would begin in the Islamic Republic's relations with other states, particularly neighboring countries.
Zardari, for his part, said Islamabad respects all agreements signed between Iran and Pakistan.
The Pakistani president arrived in Iran's capital, Tehran, earlier to attend Rohani's inauguration ceremony on Sunday.
Leader of the Islamic Revolution Ayatollah Seyyed Ali Khamenei officially endorsed Rohani for a four-year term in office as Iran's new president in a ceremony on Saturday.
The president's swearing-in ceremony will be held with the participation of Iranian officials as well as foreign dignitaries.
Rohani will take the oath of office in Majlis. He succeeds Mahmoud Ahmadinejad, whose two legally allowed consecutive terms ended on Saturday.
Rohani won the June 14 presidential election with 50.7 percent of a total of 36, 704, 156 ballots. Voter turnout in the election was 72.7 percent.