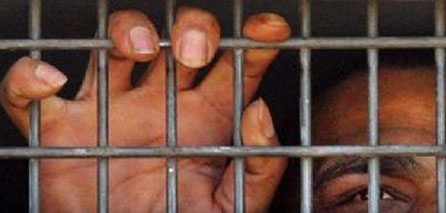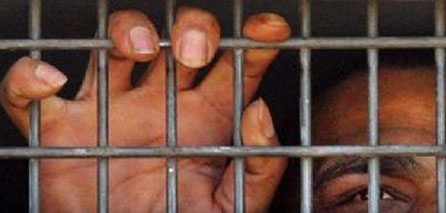 An Israeli prisons authority (IPA) special unit raided a number of cells in the Hadarim prison Tuesday night.
According to sources inside the prison, prisoners were detained and searched while members of the unit destroyed their property. Ibrahim al-Masri, Zahir Jabbarin, and Mustafa Ramadan were placed in solitary confinement.
The IPA raided more cells earlier, and imposed sanctions on the prisoners including banning some of them from continuing university studies and imposing fines on several others.
In a separate story, Israeli troops arrested Wednesday a man from Sair, north Al-Khalil city, after raiding his home.
The troops raided the home of Sheikh Zoudi Shaban al-Shalalada, 48, in Sair after searching him and confiscating his computer. He was then arrested and taken to an undetermined destination, local sources said.
Shalalada, who suffers from a heart condition and diabetes, was released from Israeli prison a short time back after serving two years. He served eight years in Israeli prisons and was among the 400 Palestinians exiled to Maraj al-Zohour in south Lebanon in the nineties of the past century.
He was also held by the Palestinian Authority militia and spent several months in torture.
In a related context, 13 other Palestinians were arrested in the West Bank during incursions by Israeli troops stationed in the West Bank.
Israeli radio said Israeli military arrested 13 Palestinians in a military operation targeting Palestinians wanted by Israeli forces.