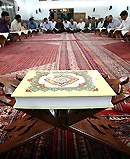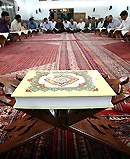 Islamic Republic of Iran's Quranic Exhibition will open Saturday evening in Mombasa, eastern Kenya.
Titled "Quran in the Mirror of Art", the exhibition is mounted by the Iranian Cultural Center in Kenya as part of the Quranic Week plan.
A number of Iranian and Kenyan officials including Abbas Farmand, Iran's Cultural Attache in Kenya, mayor of Mombasa as well as religious and cultural figures will attend the opening ceremony.
The five-day exhibition will feature painting-caligraphy works by Mohammad Ali Movaheddian and calligraphy and illumination works by Mehdi Khodapanah. It will also showcase Quranic and Islamic books published by Al-Hoda Publications and the Computer Research Center of Islamic Sciences.
The Quranic week in Kenya also includes a Quran competition in the city of Malindy and Quran recitations by internationally known Iranian reciter, Masoud Piruzmand.
This year, Quranic weeks are planned to be held by the Islamic Culture and Relations Organization in 32 countries around the world.