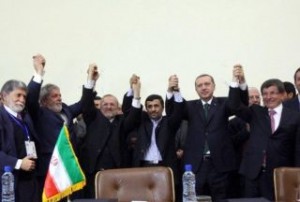 A draft resolution for fresh sanctions against Iran has no effect on an upcoming meeting between Iran's top nuclear negotiator and the EU foreign policy chief.
On Tuesday, US Secretary of State Hillary Clinton said Washington had reached an agreement with other veto-wielding members of the UN Security Council for imposing a fourth round of sanctions against Iran.
The remarks came only one day after Iran, Brazil and Turkey issued a declaration in which Tehran agreed to send about half of its low-enriched uranium to Turkey in return for nuclear fuel for the Tehran research reactor.
Earlier in May, the Iranian Foreign Ministry said Tehran had accepted EU foreign policy Chief Catherine Ashton's request for talks with Saeed Jalili, the secretary of Iran's Supreme National Security Council.
When asked whether Iran would cancel the meeting in response to the resolution, Alaeddin Boroujerdi, the head of Iranian Parliament's National Security and Foreign Policy Commission, said, "It is highly unlikely that such a thing will happen."
He added that Iran's further moves regarding its nuclear program would be based on the Tehran declaration.
Iran's nuclear declaration has been met with skepticism by the US and its Western allies.
However, both Brazil and Turkey have warned against new sanctions against Iran, stressing that Tehran's nuclear issue should be solved through diplomatic means.