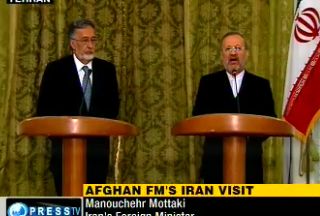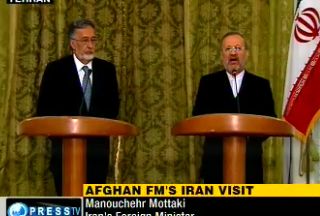 Iranian Foreign Minister Manouchehr Mottaki says Iran and Afghanistan are seeking a "road map" to enhance relations and help put an end to the "threat" of militancy in Afghanistan.
Speaking at a joint press conference with Afghan Foreign Minister Zalmai Rassoul in Tehran on Thursday, the top Iranian diplomat referred to the "cordial" relations between the two countries and stressed Iran's commitment to help establish peace and security in its eastern neighbor.
"Iran has always stood by the people and the government of Afghanistan," Mottaki noted.
The Iranian minister went on to express hope that an upcoming international conference due to be held in Kabul next week would come up with strategies that could help resolve the Afghan issues.
Mottaki also addressed Iran-Afghanistan border demarcations and called for measures to fortify border regions between the two countries.
The Iranian minister went on to describe the ongoing militancy in Afghanistan as "menacing," urging concerted regional efforts to help counter the threat.
The top Iranian diplomat also criticized the foreign "occupation" of Afghanistan, which has been in place on for years.
The Afghan foreign minister, for his part, hailed the Islamic Republic's dedication to promote peace in Afghanistan, adding further that his country was in need of international cooperation to resolve issues of violence and extremism.