Afghanistan
Iran
Iran, Afghanistan to Discuss Building Pipeline for Export of Iranian Oil Products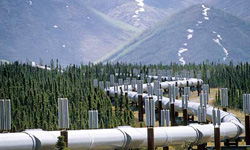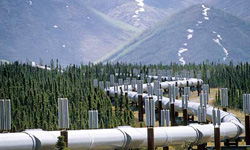 Tehran and Kabul officials are slated to hold talks on the construction of a pipeline to export Iranian oil products to Afghanistan.
A team of Iranian oil experts are planned to visit Afghanistan in coming days to discuss the pipeline construction projects with Kabul officials.
The pipeline will be 896 kilometers long and is capable of carrying different oil products, including gasoline to Afghanistan.
The pipeline with the capacity of pumping 150,000 barrels of oil products per day can also be used for crude exports.
All the needed equipments and devices, including the pipes, would be purchased from local producers in Iran.
The pipeline will also be used for transferring oil products to Iranian cities bordering Afghanistan, but will mainly be used for supplying petrochemical products to the neighboring country.
The Iranian oil ministry had earlier announced that Tehran plans to increase exports of oil and petrochemical products to the neighboring countries, specially Armenia, Iraq and Afghanistan.
Iranian petrochemical products are mainly sent to Afghanistan and Iraq.
Iran has recently started building 7 new refineries of Shahriar, Anahita, Setareh Khalije Fars, second Khuzestan, Hormuz, Caspian and Pars and it can become a large gas exporter in the region and the world with accomplishment of the refineries.
The country also seeks purchasing and launching small refineries in African and Latin American countries to export oil to the countries and sell its petrochemical products.
It can be said that building the aforementioned pipeline to Afghanistan and similar pipelines could be a way to bypass sanctions imposed against Iran over its peaceful nuclear program.
Iranian Oil Minister Rostam Qassemi has already warned the West that Iran will lessen its crude exports and increase exports of petrochemical products instead, if tougher oil embargoes are imposed against the country.
After the UN Security Council ratified a sanctions resolution against Iran on June 9, 2010, the United States and the European Union imposed further unilateral sanctions against the Islamic Republic over its nuclear program, mostly targeting the country's energy and banking sectors.
Tehran has always dismissed West's pressures and stressed that sanctions and embargos merely consolidate Iranians' national resolve to continue the path of progress.
The EU measure was ratified at a ministerial meeting in January, but the 27-member bloc deferred its implementation until July 1.
Meantime, Analysts believe that the EU started implementation of the sanctions against Iran at a time when it is experiencing its worst economic conditions.