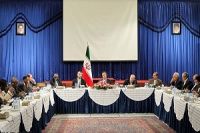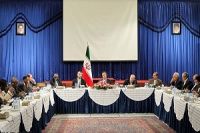 Iranian and African states' officials underlined the need for the adoption of fresh policies to remove obstacles to the further enhancement of cooperation.
In a meeting with African countries ambassadors and heads of representatives' offices, Iran's First Vice-President Eshaq Jahangiri appreciated active presence of African states envoys in Tehran and said expansion of relations with African states has always stood atop the Islamic Republic's foreign policy agenda.
He further underlined joint efforts of Iran and African states in international conferences and conventions.
Jahangiri said that sanctions against Iran's banking system limited expansion of ties with Africa, but with the firm will they could remove many of the obstacles.
Heads of representative offices of African countries in Tehran said that the main problem in the way of development of ties is lack of implementation of past agreements and MoUs and asked for boosting efforts to remove obstacles.
The African envoys stressed good political relations with Iran, and called it an opportunity to promote economic relations.
Iran is also an observing member of the Arab Union and has shown an active presence in previous AU summit meetings.