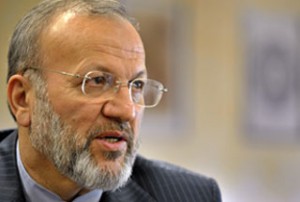 Foreign Minister Manouchehr Mottaki says Iran is against the presence of "a third state or organization" in the Caspian Sea.
Based on deals reached between Iran and the former Soviet Union, no other county can launch shipping or conduct fishing in the sea except its littoral states, Mottaki told a one-day summit on the Caspian Sea's legal regime in Tehran.
Mottaki also called on the Caspian states to avoid an arms race in the region, saying Tehran believes the largest lake in the world should remain 'the sea of peace, friendship, and stability'.
He emphasized that establishing a balance, between the number of military forces and equipment and the 'joint potential threats' in the region, is essential.
Mottaki said there is an urgent need for an appropriate security mechanism to monitor joint measures in the sea.
The Iranian top diplomat added that the Islamic Republic believes any decision on the legal regime of the sea should be taken by a consensus among the five littoral states.
He also noted that any decision outside such a structure for the Caspian sea 'lacks legitimacy and will not be put into practice'.
The legal status of the Caspian Sea has been blurred since the breakup of the Soviet Union. Prior to that, Iran and the Soviet Union equally shared the resources of the lake.
After the breakup of the USSR, three newly independent states — Kazakhstan, Turkmenistan and Azerbaijan — bordering the Caspian Sea appeared on the scene, with their own demands.
Despite extensive negotiations, no agreement has been signed for the final legal status of what is in fact not a 'sea', but the largest lake in the world.
Mottaki went on to say that the Islamic Republic will not allow any country to carry out excavation activities for energy resources in Iran's 20 percent share of the sea, until its legal status is finalized.
He reiterated that Iran desires a "fair" share of the sea's resources.
The maritime and seabed boundaries of the Caspian Sea have yet to be demarcated among Azerbaijan, Iran, Kazakhstan, Russia and Turkmenistan, the five countries bordering the Sea.