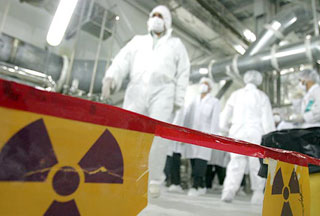 Iran's Foreign Minister Manouchehr Mottaki says his country is ready to swap 400 kilograms of its low enriched uranium in the Persian Gulf Island of Kish.
"We are prepared to take 400 Kg of 3.5 percent enriched uranium to the Island of Kish and exchange it with an amount equivalent to 20 percent of the original batch," said Mottaki in a Saturday address to a security conference in Bahrain.
Mottaki added that the process would begin "right away" if the P5+1, the United States, Britain, France, China and Russia – and Germany, agree to this offer.
The Iranian Foreign Minister noted that Iran would need up to 15 nuclear plants to generate the needed amount of electricity, and is prepared to negotiate with Western powers in this regard.
"From what we have found, we need at least 15 power plants to generate the required amount of 20,000 Megawatts of electricity for the next two decades," he said.
In order to keep the heat on Iran and force the country to accept a Western-backed offer on nuclear fuel supply, world powers drafted a German-sponsored resolution at the UN nuclear watchdog, demanding that Iran stop construction of its Fordo nuclear facility outside Tehran.
Floated by the Obama administration, the aforesaid fuel draft deal requires Iran to send abroad most of its LEU to be further processed and then returned to the country for use in the Tehran research reactor.
Iranian officials rejected the UN proposal, saying there are no guarantees that the country would in fact receive the fuel it requires.
Iran says it is ready to consider the offer if the nuclear swap takes place within the country's borders.
Iran's top diplomat rejected oft-stated claims that Iran's nuclear issue has reached a point of crisis, saying that Iran has always adhered to all of its contractual commitments in the past 200 years.
"This is while our Western counterparts have reneged on their promises time and again," he said.