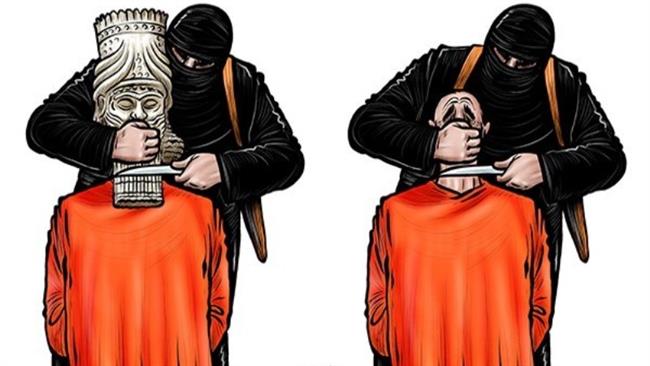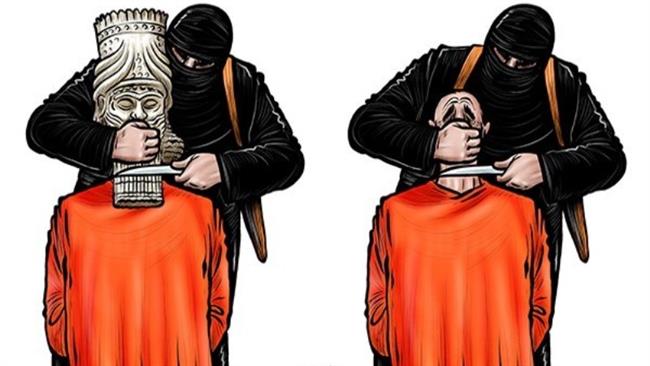 A cartoon and caricature competition about the crimes of the ISIL Takfiri terrorist group has concluded in the Iranian capital, Tehran, Press TV reports.
On Sunday, a team of cartoon and caricature experts judged more than 1,000 works submitted to Iran's House of Cartoon, the organizer of the event.
About 270 works were selected from the submissions, including artists from over 40 countries such as Brazil, Australia and Latin America.
The selected works will go on display in four different locations in Tehran.
The contest focused on the terror group's horrific crimes, including beheading, bombing and destruction of ancient artifacts, in the two Middle Eastern countries of Iraq and Syria.
"I'm very happy to have participated in this contest because I believe in the cause. The carnage that ISIL has committed to art and culture as well as humanity is beyond belief," a contestant told Press TV.
Aref nazari, a contest winner said that "People of the world regardless of their religion or ideology need to know what ISIL is doing to humanity."
Alireza Pakdel, another contest winner, said that "the atrocities of the ISIL need to be shown in a wider scale and it was the best platform to do it. A caricaturist like me has a great responsibility and I try to play my part in revealing the true identity of this terrorist group."
The competition formally known as the DAESH International Cartoon and Caricature Contest, launched in February, entered its second stage last week.
ISIL terrorists, who have persecuted minorities and people of various faiths, are also targeting artifacts and museums in Iraq.
Earlier in March, the Takfiri ISIL militants "bulldozed" the ancient Assyrian city of Nimrud in the northern part of Iraq.
The terrorist group released a video on February 26 showing its members using sledgehammers and drills to smash ancient statues at the Ninawa museum in the northern Iraqi city of Mosul, which put on display Assyrian artifacts dating back to the 9th century B.C.