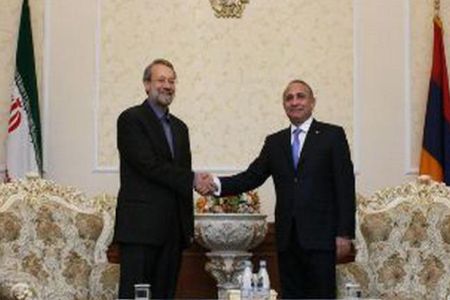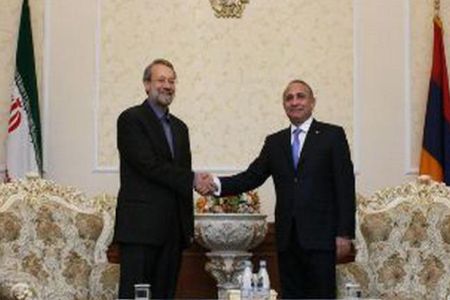 Iranian Parliament Speaker Ali Larijani met his Armenian counterpart Hovik Abrahamyan in Yerevan on Friday.
During the afternoon meeting, the two officials discussed regional security and called for the expansion of parliamentary ties and economic cooperation between Tehran and Yerevan, IRNA reported.
Speaking to reporters in Tehran before his departure, Larijani said Iran is seeking to forge friendly ties with its neighbors and wants to work together with them to enhance security and establish peace in the region.
Larijani arrived in Yerevan on Friday and is scheduled to travel to the Kazakh capital Astana on Saturday afternoon.
A number of MPs are accompanying him as part of his delegation, including representatives of Iran's Armenian community.
Commenting on the Nagorno-Karabakh conflict, Abrahamyan said the problem should be solved within Minsk Group format.
The Minsk Group was created in 1992 by the Conference on Security and Cooperation in Europe (CSCE, now the Organization for Security and Co-operation in Europe [OSCE]) to encourage a peaceful, negotiated resolution to the conflict between Azerbaijan and Armenia over Nagorno-Karabakh.
Larijani also said the dispute should be resolved through negotiations and on the basis of justice.
Both Azerbaijan and Armenia claim the territory of Nagorno-Karabakh, which is mainly populated by Armenians but located in Azerbaijan.
Ethnic Armenian forces took control of the Nagorno-Karabakh region during a war in the early 1990s.
The conflict left an estimated 30,000 people dead and one million displaced before the two sides agreed to a ceasefire in 1994. However, a peace accord has never been signed and the dispute still remains unsettled.
Iran had earlier extended an offer to mediate between Armenia and Azerbaijan in the dispute.
In April 2010, Iranian Foreign Minister Manouchehr Mottaki presented a proposal for a trilateral meeting with his Armenian and Azerbaijani counterparts to attempt to resolve the dispute.
Last month, Mottaki said the proposal is still on the table.