Iran
Iran Army deploys heavy-duty dredger to flood-hit province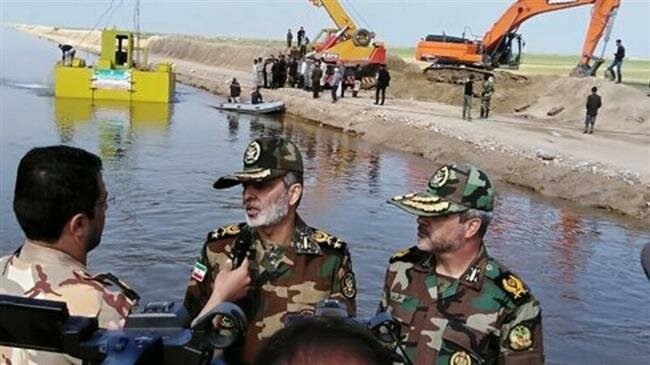 Iran's Army has deployed a special, heavy-duty dredger to a northern province severely hit by recent flooding to speed up the redirecting of floodwaters to the sea.
Chief Commander of the Iranian Army Major General Abdolrahim Mousavi, who is on his second visit to the flooded areas of Iran's Golestan Province, said on Friday that the dredger had been launched in order to allow larger amounts of water to be re-channeled downstream and toward the Caspian Sea through a major river in the area.
The operation will help redirect floodwaters from the badly-hit cities of Aq Qala and Gamishan through the Gorganroud River toward the sea further north.
The Caspian littoral — where Golestan Province is located — is one of Iran's two low-lying regions.
The province was hit with heavy rainfall beginning on March 19. Rivers and smaller streams overflew their banks as a result. Some three dams in the region also burst. But the flooding was not confined to Golestan. At least 22 other provinces, out of the country's 31, have seen heavy downpours and often flooding.
Major General Mousavi explained that the dredger could operate in rivers and shallow waters, cutting up hard sediment and rocks and churning them away to the sides of the waterbed.
"Given that the rivers of the region adjacent to the Caspian Sea basin require dredging, [the machine] will also be used in other regions [in Iran's north] after finishing its operations in this channel," Mousavi added.
That operation would in turn make it easier for loaders to work to widen the channel of water, according to the Iranian Army chief.
The dredger of the Iranian Army was earlier transported to the region from the southeastern city of Khorramshahr by three Iranian Air Force transport planes.
Meanwhile, relief efforts continue across the country, with professional and voluntary relief teams being sent to many flood-stricken areas. Helicopters have also been used to get aid to locations made inaccessible via land due to the floods.
PressTV-Iran speeds up 'relief train' to help flash flood victimsIran has stepped up efforts to transport relief to flood-stricken areas, including a new initiative to set up a "relief train".
Much effort is also being put in enforcing existing dikes and building new ones to withstand potentially more flooding in populous areas.
Unprotected areas at risk of flooding have been evacuated.
The unprecedented rainfall has caused major floods in the provinces of Golestan, Mazandaran, Gilan, Kordestan, Lorestan, Fars, Northern Khorasan, Kermanshah, Khuzestan, Kohgiluyeh and Boyer-Ahmad, and Sistan-and-Baluchestan.
Estimates by government agencies suggest that the floods have taken the lives of at least 67 people, injured nearly 800, and destroyed over 25,000 houses around the country.
Lorestan is said to have suffered the second highest amount of casualties after Fars Province, based on official reports.