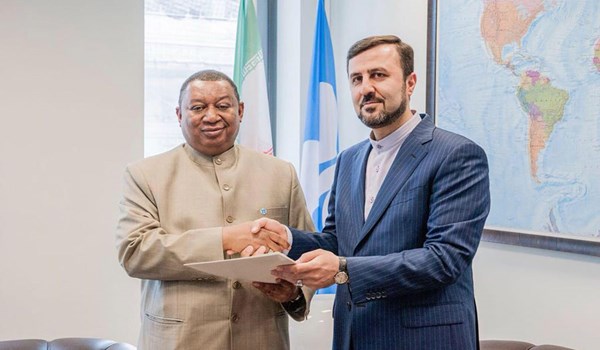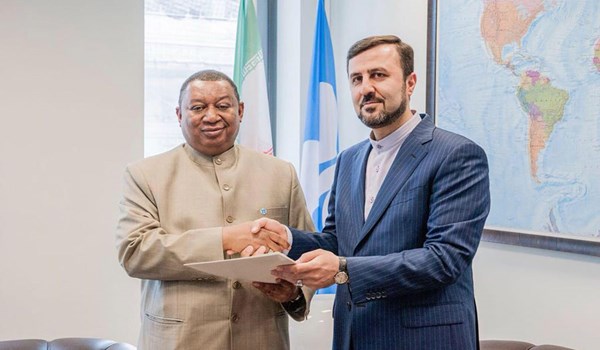 Iranian Ambassador to the International Atomic Energy Agency (IAEA) and other world bodies headquartered in Vienna Kazzem Qaribabadi underlined the need for the Organization of the Petroleum Exporting Countries (OPEC) to stay unpolitical and continue support for members.
"The Islamic Republic of Iran believes that OPEC should in the current period of time firmly support its members and prevent plots and measures by countries which seek politicization of the OPEC," Qaribabadi said in a meeting with OPEC Secretary-General Mohammad Sanusi Barkindo in Vienna on Sunday.
He also stressed that no member state is allowed to take production and exports quota of another country.
Barkindo, for his part, underlined OPEC's close ties with Iran and Oil Minister Bijan Zanganeh, and said, "Maintaining OPEC's independence is of special importance and the Organization should always be independent, technical and non-political."
In relevant remarks earlier this month, Iran's OPEC Governor Hossein Kazzempour Ardebili said that US President Donald Trump has fallen in the Saudis' trap by their claims that they can fill the gap of Iranian oil supply reduction, assuring him that crude prices will increase.
"It seems President Trump has been taken hostage by Saudi Arabia and a few producers when they claimed they can replace 2.5 million barrels per day of Iranian exports, encouraging him to take action against Iran," Kazempour Ardebili said.
He said oil prices will still rise unless the United States grants waivers to buyers of Iranian crude.
He said there were now calls for the use of the US Strategic Petroleum Reserve, adding "this will also mean higher prices."
"US waivers to our clients if they come is due to the failure of bluffers (Saudi and the other producers) and, if not given, will again push the prices higher," Kazempour Ardebili said as he included Russia in his criticism.
"So they hanged him (Trump) on the wall. Now they want to have a mega OPEC, congratulations to President Trump, Russia and Saudi Arabia," he said.
The official said last month Saudi Arabia, the UAE and Russia had pretended to be able to deliver 2.5 million barrels a day of Iranian exports, leading Trump into a "miscalculation".
"That was a miscalculation, Mr. President: you have fallen in their trap, and prices will go up," Kazempour Ardebili said, addressing the US president.