Iran
Middle East
North America
Palestine
Iran: Assassination of Gen. Soleimani, Dr. Fakhrizadeh Proof of US-israeli State Terrorism
Iran's Defense Minister Brigadier General Amir Hatami said the assassination of the anti-terror legendary commander Lieutenant General Qassem Soleimani and outstanding nuclear scientist Doctor Mohsen Fakhrizadeh proved the US and Israeli state terrorism.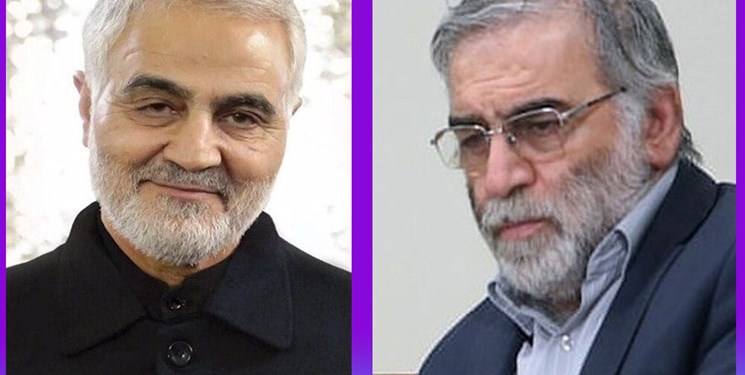 "The cowardly assassination of Iranian General Qassem Soleimani and top nuclear scientist Mohsen Fakhrizadeh are clear instances of state terrorism by the US and Israel," Hatami told his Japanese counterpart Nobuo Kishi during a virtual talk on Tuesday.
He condemned the heinous assassination of Lieutenant General Qassem Soleimani by the US terrorist army and the dastardly assassination of Dr. Mohsen Fakhrizadeh by the Israeli elements.
The Iranian minister went on to say that state terrorism is the source of instability and insecurity in the region.
Nobuo Kishi, for his part, pointed to Japan's naval presence in Indian Ocean and the Sea of Oman, saying that it is not dependent on any alliance.
He said that the Japanese navy is trying to maintain security of the country's ships in West Asia, calling for Iran's cooperation in this regard.
The two sides exchanged views on expansion of cooperation, including in the Center for Maritime Safety in Indian Ocean located in Chabahar region in Southern Iran.
In relevant remarks on Tuesday, Spokesperson of the joint Iran-Russia naval exercises Rear Admiral Gholamreza Tahani said security of the sea lanes in the North of the Indian Ocean is among the most important goals of the exercise.
"We emphasize that the North Indian Ocean region is one of the safest maritime regions," Tahani said on Tuesday in the presence of the commanders of the navies of Iranian Army, Islamic Revolution Guards Corps and Russia, adding that one of the goals of the joint drills is to boost security of the North Indian Ocean region.
"The North Indian Ocean is one of the most important and strategic waterways in the world and plays an important role in world trade and shipping," he went on to say.
"The security of shipping lines in this region, especially in the area between the Strait of Hormuz, the Malacca Strait and the Bab al-Mandab Strait, guarantees the preservation of economic interests in the world, which requires the cooperation and convergence of different navies," the spokesman noted.
"Many countries navigate the Sea of Oman and the Indian Ocean, which are key areas of world trade, and therefore maintaining maritime security is crucial," Tahani stated.
He said that improving combat readiness, achieving collective security and exchanging experience in the field of counter-terrorism and piracy are important goals of this exercise.
Iran-Russia 'Marine Security Belt' drills are underway with the slogan "Collective Cooperation at Sea for the Security of Maritime Trade" in a 17,000-kilometer area with a message of peace and friendship.