Iran
Iran at peak of defense preparedness to counter threats: Defense minister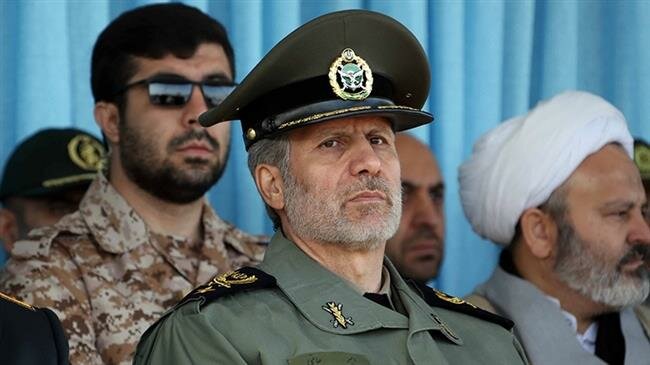 Iranian Defense Minister Brigadier General Amir Hatami says the Islamic Republic has currently the highest level of defense preparedness to counter any threat against the country.
"Today the Islamic Republic of Iran stands at the peak of defense-military preparedness to counter any threat or act of aggression," Hatami said on Wednesday.
He added that Iran has attained such a high level of preparedness despite being under sanctions, stressing that restrictive measures against the country have failed to hinder Iran's boosting of its defense power.
Even the US and its regional stooges acknowledge the Islamic Republic's prowess, he noted.
Brigadier General Hatami pointed to numerous failed enemy plots against the Islamic Republic in the region and said, "The defeat of the recent Takfiri-terrorist current in the region, in particular in Iraq and Syria, dealt a heavy blow to the image of… the US and the regional governments sponsoring terrorists, and after this malicious plot failed the Americans embarked on waging a severe, all-out war on our nation through using economic tools."
He said enemies were using all they had in power to instill intimidation in regional countries and to counter Iran and break the nation's resistance.
The defense minister, however, said that the Iranian nation will "defeat the American-Zionist front."
Tensions have been mounting between Iran and the US after Washington said it would send an aircraft carrier strike group close to the region as a warning message to Iran.
Meanwhile, the commander of Iran's Islamic Revolution Guards Corps (IRGC) aerospace division, General Amir Ali Hajizadeh, has asserted that the US forces stationed in the Persian Gulf "will be hit on the head" if they make a wrong move.
"An aircraft carrier with at least 40 to 50 fighter jets and 6,000 personnel was a serious threat for us in the past, but is now a target and threats have turned into opportunities," Hajizadeh said on Sunday.
"If Americans make a [wrong] move, we will hit them on the head."
The Iranian commander added that if the Americans say nothing about waging war against Iran it is because "they are vulnerable."