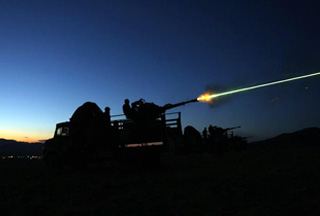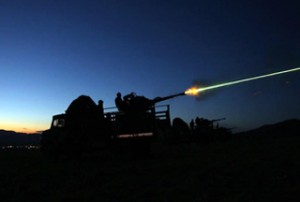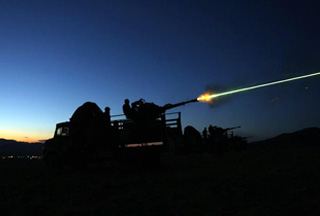 Iran's largest military maneuver has commenced for the fourth day with the country's defense forces combating supposed enemy attacks on nuclear installations within Iran.
Iran on Sunday launched a five-day drill that will cover some 600,000 square kilometers, spreading across the central, western and southern parts of the country.
During the third stage of the maneuver, that will continue for two days, Iranian servicemen will thwart hypothetical aerial threats against Iran's nuclear facilities.
"Throughout the maneuver the hypothetical enemy… sought to dispatch its stealth bombers and fighter jets to the country's sensitive areas," spokesman for the maneuver, Brigadier General Ali Moqiseh said on Wednesday.
"Our defense brigades managed to thwart the attack by using defense in depth strategies, thus preventing the aggressor through successive layers of defense from reaching the areas."
The exercise, covering more than a third of Iran's territory, is meant to mobilize rapid-reaction army and air defense units and test anti-aircraft and radar capabilities in various parts of the country.
Both the United States and its close ally Israel have refused to rule out the possibility of military action against Iran, if Tehran does not halt its enrichment activities.
Tel Aviv claims Tehran's nuclear program poses a threat to its security. This is while Iran's activities have come under close scrutiny by the UN nuclear watchdog, which has confirmed the non-diversion of Iran's nuclear program in its several reports.
Unlike Tehran, Tel Aviv is the sole possessor of a nuclear arsenal in the Middle East and has so far refused to sign the nuclear Non-Proliferation Treaty (NPT).
Tehran denies seeking nuclear weapons and has called for the removal of all weapons of mass destruction from across the globe.
Many believe that Tel Aviv's enmity is rooted in a military doctrine that says Israel must maintain absolute military superiority in the region.
"The maintenance of Israel's 'qualitative military edge' over any combination of its potential adversaries has been a cornerstone of US Middle East policy for more than a decade," says Shawn L. Twing, editor of the Washington Report on Middle East Affairs.
Journalist Adriel Hampton believes Israel's military advantage is "a cost-effective way of serving America's national-security interests in this critically important region."