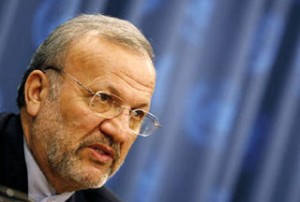 Iranian Foreign Minister Manouchehr Mottaki says the woman said to be Osama Bin Laden's daughter can leave the country providing that her identity is confirmed.
Speaking to IRIB on Thursday, Mottaki answered questions about recent media reports that Osama Bin Laden's daughter was at the Saudi Embassy in Tehran.
He said that theIranian Foreign Ministry was earlier informed by the Saudi Embassy in Tehran that a woman that they claimed to be Osama Bin Laden's daughter was at the Embassy.
"A while ago, the Saudi Embassy said that one of Bin Laden's daughters was at the Embassy. [So] the Foreign Ministry told the Saudi Embassy that under [international] conventions, if her identity is confirmed the person could leave Iran with travel documents."
"Her identity has not been confirmed for us but the Saudi Embassy has admitted [that she is Bin Laden's daughter]," he added.
Earlier on the same day, Iran's Foreign Ministry Spokesman Ramin Mehman-Parast said that the Saudi Embassy had officially requested travel documents for the woman in question.
Mehman-Parast, however, said that Iranian law requires the alleged member of the Bin Laden family to refer in person to Iran's Bureau of Alien and Foreign Immigrant Affairs and apply for travel documents.
He also said the applicant should personally state her destination, adding that Saudi Embassy officials had failed to pursue the matter afterwards.
According to the Saudi Embassy, the woman entered Iran illegally through the eastern borders of the country without proper documentation.