Iran
Iraq
Middle East
North America
Iran Blames US for Troubling Fight against Drug Trafficking
Iran blasted the US for hindering regional and international cooperation to fight against drug trafficking by imposing sanctions against the country as a pioneering state in anti-narcotics campaign.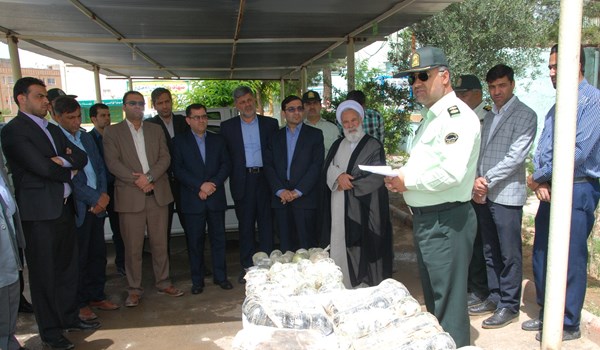 "Unfortunately, the US unilateral economic sanctions against Iran will leave negative impacts on the process of confrontation against the drug traffickers and will create problems in regional and international cooperation in this field," Head of the Iranian Foreign Ministry's Department of International Cooperation for Countering Terrorism and Extremism Hossein Maleki said, addressing an anti-terrorism conference in Tajikistan on Sunday.
He added that the US should be blamed for the catastrophic results of its antagonistic efforts in international anti-drug campaign.
Maleki reminded Iran's material and spiritual costs to fight against narcotics, saying that over 4,000 Iranian police forces have been martyred and 12,000 others wounded to enable the country to seize 11,000 tons of different types of drugs.
In relevant remarks last Monday, Secretary General of Iran's Drug Control Headquarters Brigadier General Eskandar Momeni announced that 800 tons of trafficked narcotics were annually discovered and seized in the country, adding that a major portion of these cargoes were destined for Europe.
"Annually, over 800 tons of drugs are discovered in Iran a major part of which is due to be used (by traffickers) for transit towards Europe," General Momeni told reporters in Alborz province near Tehran.
He added that Iran spent over 11% of its gross national product for direct and indirect expenses on campaign against illicit drugs, and expressed concern that the US sanctions against Iran which pressure the country economically would leave negative impacts on Tehran's anti-narcotics efforts.
General Momeni said that international meetings and forums held to increase fight against drugs would not resolve any problems, noting, "As we fight, the world should also play its role in this regard because the young Iranians fight (drugs) to protect the life of other countries' youth but other countries do not help this fight and rather rock the boat."
Iran is in the forefront of the fight against drug trafficking and thousands of Iranian police forces have been so far martyred to protect the world from the danger of drugs.
The Iranian anti-narcotic police have always staged periodic operations against drug traffickers and dealers, but reports – which among others indicate an improved and systematic dissemination of information – reveal that the world's most forefront and dedicated anti-narcotic force (as UN drug-campaign assessments put it) has embarked on a long-term countrywide plan to crack down on the drug trade since more than a decade ago.
Also, late last month, Iranian Police Chief Brigadier General Hossein Ashtari had described Iran as a pioneering state in campaign against drug trafficking, and said, "We have declared our information and needs to the international organizations and I should say that we have not pinned hope on their aid."
"We do not have hope that the international organizations can seriously confront" the cultivation and production of narcotics in Afghanistan, General Ashtari said.
The Iranian police officials maintain that drug production in Afghanistan has undergone a 50-fold increase since the US-led invasion of the country in 2001.
Afghan and western officials blame Washington and NATO for the change, saying that allies have "overlooked" the drug problem since invading the country 18 years ago.